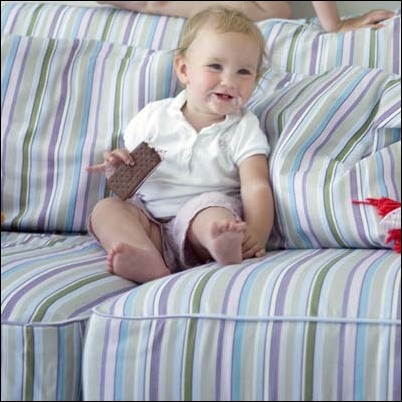 The Bemz website lets you preview a fabric selection on a wide variety of IKEA sofas or armchairs, and we don't charge to send swatches of any fabric.
Woodside, Calif. (PRWEB) July 16, 2007
Bemz, the Swedish company that designs and sells slipcovers for IKEA sofas and chairs, has added a new pattern to its broad online portfolio of stylish and practical slipcover fabrics. The new Prisma Stripe pattern combines colors from some of Bemz's most popular patterns, and lets people add a unifying, harmonizing look to their living spaces--without breaking the bank.
"Stripes are hot this year, so we created a multi-stripe slipcover that adds a fun, modern, practical look to any home," says Bemz founder Lesley Pennington. "For a funky, upbeat effect, try mixing Prisma Stripe with Gustavian Flowers-Dusty Rose or Woven Whimsy-Cloud Grey. Or, you can combine Prisma Stripe cushion covers in any of our solid colors to create an elegant, integrated design scheme."
The new Prisma Stripe-Eggshell Blue pattern combines the colors that Bemz slipcover customers most often request: the soft pastel shades of A Paler Shade of Grey, Sand Beige, Dusty Rose and Eggshell Blue, and then adds accents these with the rich, earthy hues of Aubergine and Light Olive Green.
Also new--dining-room chair slipcovers:
Also just available for the American market: Bemz slipcovers can now be ordered for IKEA Henriksdahl dining room chairs and even the Henriksdahl bar stools. Customers can choose from more than 60 colors and patterns for these chairs and bar stools. For a more formal look, the dining-room chair slipcovers can be ordered with a long skirt.
"We make it affordable to give your living room, dining room or kitchen a new look with Swedish style, and we ship direct to U.S. customers via UPS air," says Pennington. "The Bemz website lets you preview a fabric selection on a wide variety of IKEA sofas or armchairs, and we don't charge to send swatches of any fabric."
A wide range of colors and styles, organized by themes:
The entire line of Bemz slipcovers is machine washable and designed especially for IKEA furniture--even sofas that IKEA has discontinued. Bemz offers a huge variety of slipcover patterns and colors for IKEA furniture, thematically grouped to fit different settings and tastes. All Bemz fabrics have been specially selected for their quality, fine finish and durability and have been Sanforized to prevent shrinkage. The complete line fabrics can be viewed on any of the sofas and chairs at Bemz.com, and can be ordered online. Just select a sofa, click on a fabric, and see the price.
About Bemz:
Bemz, located in Stockholm, Sweden, designs and sells inspirational, stylish and washable slipcovers for sofas, armchairs and cushions. Slipcovers are available to fit the most popular models of IKEA sofas and chairs. To order, visit http://www.bemz.com.
A selection of high-resolution artwork is available on the Bemz website. Or, contact Tim Cox, Zing Public Relations, +1 (650) 369-7784.
###