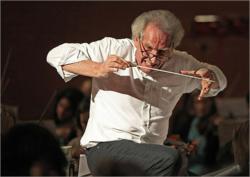 My father used to say there is no such thing as bad weather. Only inappropriate clothing.
Boston, MA (PRWEB) December 01, 2012
Carlton's Training Solutions changes the way companies function as a whole when using Ben Zander training videos. The fundamental Zander principles are devastating in their simplicity and how they can turn a company and it's employees around so radically. A Ben Zander video by Carlton's Training creates opportunities for growth and proffers success unseen before.
Choosing to live in a world of possibility or a world of luck or failure. Leadership is knowing every time a manager opens their mouth they can choose a positive attitude and thus it reflects in positive efforts and then positive outcomes. Or live in the downward spiral with statements that the economy is bad, or it's just bad luck, and many other excuses. But it's all how companies perceive their situation. Ben Zander said, "My father used to say there is no such thing as bad weather. Only inappropriate clothing."
At the world business forum in New York Zander tells a great story that says it all and turns even the greatest pessimist into a believer. "Two shoe salesmen from Manchester were sent to Africa to see if they could expand their market there. One sent back a telegram that stated situation is hopeless, they don't wear shoes. The second sent a telegram that said glorious opportunity, they don't have any shoes yet!"
How does a company capture that attitude that radiates from Ben Zander? As he states in his corporate training video Attitude: Radiating Possibility, it is not a message. It is a practice. Anything leaders do, negatively or in a positive fashion becomes habit. Living in the realm of possibility is something that organizations must practice consistently. If a client needs a twenty-day project done in fifteen days a company can say it can't be done. Or they can say what an opportunity! If they create a way to complete this in 75% of the time it normally takes they can do it for other clients and have more time to take on new clients and increase their profit 25% at least!
Carlton's Training Solutions find companies use the Ben Zander Leadership: An Art of Possibility training video so much because it takes practice for something to take hold. Like any tool, it grows sharper each time it is used. Using a Ben Zander video from Carlton's Training inspires a prosperous attitude with results the company can see.
About Carlton's Training Solutions
Carlton's Training Solutions represents the world's leading authorities in business. John Cleese, Bob Farrell, Catherine Crier, Dewitt Jones, Joel Barker, Tom Peters, Stephen Covey and others have contributed to corporate training videos featured in the training of Carlton's clients around the globe. To view other topics such as harassment training, sexual harassment training, leadership training or customer service training click here at http://carltonstraining.com/