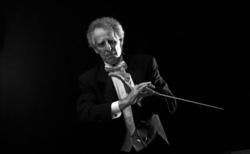 Atlanta, GA (PRWEB) January 19, 2013
Ben Zander is the wildly entertaining Boston philharmonic conductor captured in the management training videos by Carlton's Training Solutions. His talent is unique. His ability to inspire others unparalleled. Carlton's Training Solutions is about to unleash the training videos of Ben Zander to their clients.
How fascinating! This is a phrase Zander often repeats in his corporate training. It's the phrase he uses when he makes a mistake and it becomes the phrase for the people who work with him. He awakens the spirits of his people and makes his message impossible to ignore. "A manager's job is to awaken possibility in other people," says Zander.
His management training video Leadership: an Art of Possibility demonstrates the power of staying positive at the workplace or in any aspect of life. The attitudes of people can have a negative or positive effect on others. Thus one can be influenced by or choose to influence others. By focusing on the positive we can influence co-workers in a positive way and thus infect ourselves as well.
Attitude: Radiating Possibility is about choosing the spirit that one can bring to their job. Everyone has experienced burn out. How does Ben Zander find the joy in his work every single day and enjoy it and help others thrive? In his management training he shows how he chooses to avoid negativity. This isn't about turning a blind eye to crucial information one may not want to hear. But rather seeing how to not focus on the negativity of the problem but possibility of probable solutions.
Carlton's Training Solutions has been around for thirteen years celebrating the companies they assist in their corporate training. They achieved excellence in and provide training videos for subjects like what is communication, generational differences, innovation, change management, ethics and conduct, management training, sales training, safety training, substance abuse, what is diversity and employment hiring.
Carlton's Training Solutions utilizes the Ben Zander management training style for the benefit of their clients. And they have found other successful business experts and world famous personalities such as Dewitt Jones, Bob Farrell, Lou Holtz, Tom Peters, John Cleese, Morris Massey, Joel Barker, Ken Blanchard, Stephen Covey, and Catherine Crier. To view other topics on corporate training or learn more about Carlton's Training Solutions click here at their site carltonstraining.com. Leadership: an Art of Possibility by Ben Zander helps Carlton's Training Solutions to inspire clients in their corporate training.