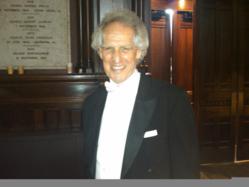 I find that if I see the positive effects my energy brings it gives me more of it.
Denver, CO (PRWEB) January 10, 2013
Ben Zander and his management training videos have become a bright spot in the stuffy world of corporate training for Carlton's Training Solutions. Organizations need to not just educate but inspire employees. Carlton's Training Solutions can smell an opportunity for higher quality management training and the motivational Ben Zander training videos fit the bill.
Ben Zander has preached a focus on the positive attitude throughout his career. But he wasn't always this chipper. Like most who work in the field of professional music, the tough disciplines are often feted with harsh words of criticism. But most people freeze up under these circumstances. So he changed his model and in his management training videos he preaches quite a different philosophy now.
Leadership: An art of Possibility is a training video that inspires employees in a dynamic way. The energy of Zander in this program is startling. Leaders find that it may be his energy that gives them a perfect model to use but what gives him that energy and why it lasts. Zander explains, "I find if I see the positive effects my energy brings it gives me more of it."
Attitude: Radiating Possibility is used in management training to deliver a message that the attitudes managers demonstrate is the same attitude they receive from employees. It's the same when someone smiles, the other smiles. In his training videos, Zander's philosophy embraces the need for proper models especially in regards to performance in the workplace.
The day in day out world of management training can be exhausting. This is another reason to be positive. Zander has been a potent force for corporate training because he makes it fun and powerful.
Carlton's Training Solutions provides corporate training in areas like change management, management training, what is communication, conflict resolution, what is diversity, ethics and conduct, employment hiring, leadership training, team activities, safety training, sales training, sexual harassment training, team building, customer service videos, and substance abuse.
Carlton's Training Solutions assists numerous Fortune 500 companies and healthcare organizations with their management training. They have found business experts and world famous personalities for their training videos such as Dewitt Jones, Catherine Crier, Ben Zander, Bob Farrell, Tom Peters, John Cleese, Morris Massey, Joel Barker, Ken Blanchard, Stephen Covey, and Lou Holtz. To view other topics for training videos, corporate training or learn more about Carlton's Training Solutions click here at their site carltonstraining.com. Carlton's Training Solutions has enabled Ben Zander to spread his word and vast energy to the corporate training world and beyond.