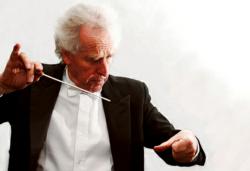 His message of creating change through positive feedback generates better work production in our industry.
New York, NY (PRWEB) January 30, 2013
Carlton's Training Solutions has two training videos in their corporate training strategy that now feature Ben Zander of the Boston Philharmonic. Zander has been requested all over the business and college lecture circuits for years. Now Carlton's Training Solutions has captured all that energy of Ben Zander into a strong message for their clients.
Zander is known for his passion and his energy. But now he's known for his business savvy. Skeptics may have thought it improbable but the corporate world has noticed the results and they are astounding. "His message of creating change through positive feedback generates better work production in our industry," says Sam Hanson of General Electric.
Management training with Leadership: an Art of Possibility has become a standard practice for the business world. In this training video, Zander releases the power of focus by eliminating doubts that cloud the mind and keep individuals from performing at their best. Positive messages aren't just sent to co-workers and family members. They are first sent to you, which may be why this program has become such a powerful tool for motivation at the office.
Training videos like Attitude: Radiating Possibility are rare in the corporate training realm. Management training is a very involved undertaking. But what seems to be driving corporate training now is motivation and energy. That's what Attitude: Radiating Possibility is about. It focuses on positive energy in the workplace and how it can affect others that are led.
Carlton's Training Solutions has managed corporate training for Fortune 500 companies for thirteen years. They have applied programs to tackle subjects for their clientele such as change management, management training, what is communication, conflict resolution, what is diversity, performance management training, sexual harassment training, substance abuse, trainer for trainers, workplace violence, time management, project management, safety training, sales training, team building, customer service videos, and telephone customer service training.
Carlton's Training Solutions handles management training using Ben Zander to drive energy into employees. They also use other well-recognized business professionals and celebrities in their training videos such as Stephen Covey, Lou Holtz, Dewitt Jones, Ken Blanchard, Bob Farrell, Morris Massey, John Cleese, Tom Peters, Catherine Crier, and Joel Barker. To see other topics on corporate training or check out Carlton's Training Solutions, click here at their site carltonstraining.com. Leadership: an Art of Possibility by Ben Zander helps Carlton's Training Solutions to inspire clients in their corporate training.