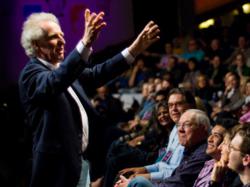 Like a conductor, leaders and managers' power depends on their ability to make others powerful.
New York, NY (PRWEB) December 06, 2012
Carlton's Training Solutions found a powerful ally in Ben Zander. The Boston Philharmonic conductor has been an incredible force in the realm of classical music and now in the business world. His energy is contagious and his attitude positive. Ben Zander has two programs every leader should see and Carlton's Training Solutions is the consulting firm showing them off.
"Like a conductor, leaders and managers' power depends on their ability to make others powerful," says Ben Zander. And it's true. A leader has that rare power not just to tell others what to do, or get others to do what they want. A true leader is one whose power extends far beyond themself and affects a whole team.
Attitude: Radiating Possibility is a Zander program that demonstrates how much a leader's words and actions can make to a team. The attitude of a leader is belief. His belief is what drives the company and his people. Employees' attitudes and beliefs affect all those around them. It is the difference between someone who believes they can make a difference and those who can't.
Leadership: an Art of Possibility theorizes that when that many people believe, imagine all those efforts towards one goal. And when one person is doing a little less than they could be imagine all those less than efforts combine to fail and fall far short of the goal. The program asks employees to be the difference in the organization. A good attitude is contagious.
Carlton's Training Solutions took a chance on the Ben Zander training videos and their clients have reaped the benefits. Rare is a program this popular that a conductor of classical music is known throughout the business world and in corporate media circles. Zander's ability to startle businesses with his insight has been truly amazing. Corporations that depend on Carlton's Training Solutions now witness the power of the art of possibility with Ben Zander.
About Carlton's Training Solutions
Carlton's Training Solutions has been the premier consulting firm to the top companies in the world for thirteen years. The corporate training videos they represent feature the likes of Ben Zander, Bob Farrell, Stephen Covey, Catherine Crier, Morris Massey, Tom Peters, Dewitt Jones, Lou Holtz, Joel Barker, Ken Blanchard, and even John Cleese. Their programs cover the spectrum of organizational training needs such as diversity training, workplace harassment training, and sexual harassment, generational issues training, leadership training, customer service training and conflict resolution training. To see other topics of training or to learn more about Carlton's, click here at http://carltonstraining.com