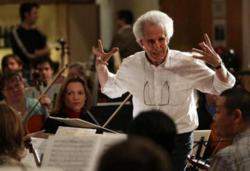 You can choose to live in the downward spiral or the world of possibility.
New York, NY (PRWEB) December 14, 2012
Ben Zander is the energetic, wild haired, Boston Philharmonic conductor featured in corporate training videos with Carlton's Training Solutions. Why would a corporate consulting firm star a conductor in their training media? Because talent can be found in unusual places. Carlton's Training Solutions has helped transform Fortune 500 Company's management style by using the philosophies of Ben Zander.
The first Zander program is a motivational leadership training video titled, Leadership: An Art of Possibility. The program focuses on leaders managing from a positive perspective. Employees become energized in their work and leaders see increased productivity because of it. Zander states, "You can choose to live in the downward spiral or the world of possibility."
Attitude: Radiating Possibility is the program where Ben demonstrates the differences between living in the downward spiral or living in a completely different world. The world of possibility. In the downward spiral people get down on themselves for mistakes. Employees see the errors they make and stay in that mindset and make more errors. And even still with those errors they see the gap created from their negative thinking and commit even more and far worse mistakes in judgment.
This is why when spectators see a tiny error in a figure skater or gymnast those watching become worried for them. They know the downward spiral all too well. They made one mistake and now they focus on that error rather than what they should be doing. Now they fall, slip, trip and sometimes even hurt themselves. A manager's job then should be to avoid this at all costs. So when employees make errors they can be discussed but focus on the positives so that is what they bring to their work.
Carlton's Training Solutions employs the Ben Zander videos because they keep employees focused and in the right frame of mind. When employees are in the realm of possibility at work, amazing results occur. The Carlton's Training Solutions videos with Ben Zander are a positive way to infect employees with possibility.
About Carlton's Training Solutions
Carlton's Training Solutions is a world wide consulting firm devising business strategies for their clients. They provide a wide variety of corporate training media in the areas of healthcare training, diversity training, sexual harassment training, workplace violence training, leadership training and more. The authors installed at Carlton's Training Solutions includes Bob Farrell, Dewitt Jones, Ben Zander, Catherine Crier, Ken Blanchard, Tom Peters, Stephen Covey, Morris Massey, John Cleese, Joel Barker, and Lou Holtz. To see other topics of training or learn more about Carlton's Training Solutions click here at their site http://carltonstraining.com