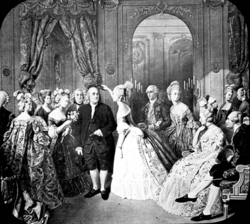 Harlan Kilstein, a Florida hypnotist, called Benjamin Franklin the Tiger Woods of his day. He accused Franklin of rampant adultery during the Revolutionary War.
Boca Raton, FL (PRWEB) March 26, 2010
Most people remember Ben Franklin as one of the primary movers behind the Declaration of Independence. He is also known for his scientific discoveries and his sage advice. But a Florida hypnotist has come forward accusing Ben Franklin of having an insatiable sexual appetite.
According to Harlan Kilstein, who has started a website known as The Hypnotic Secret (http://www.thehypnoticsecret.com), Franklin was a sexual predator during the time he went to France during the American Revolution.
Franklin's own writings reveal his candid views on sex and adultery. While in France, Franklin attracted a large group of female admirers many of whom he took to bed. Franklin went so far as to explain his fondness for affairs with older women because of their discretion.
Harlan Kilstein claims Franklin was the original "Cougar Bait" and was sleeping with numerous wives of members of the French royal court. His secret was nearly revealed by the experiments of Anton Mesmer, the founder of modern hypnosis. Franklin's solution was to discredit hypnosis during a scientific investigation because he was afraid his secrets would be revealed.
Harlan Kilstein was the owner of the world's largest hypnosis office and now specializes in personal change via the Internet. His latest site, The Hypnotic Secret, (http://www.thehypnoticsecret.com) shows how hypnosis can amplify results people get using the Law of Attraction.
Contact:
Harlan Kilstein
OTC Publishing
370 West Camino Gardens Blvd
Boca Raton, FL 33432
561-395-7400
# # #