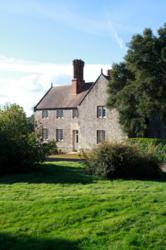 (PRWEB UK) 12 April 2013
Situated next to Osborne House, the former residence of Queen Victoria on the Isle of Wight, Barton Manor Farmhouse is a one hundred and fifty year old farmhouse noted to be Prince Albert's pride and joy.
During its day as a working farm, Barton consisted of an elaborate range of farm buildings which included all the latest technology. With two steam engines, a tram way to push trucks of feed to the calf fattening houses, sets of axles with interchangeable cart beds that could be stacked vertically like plates in a plate rack when not in use and metal tripod supports for the hay and straw ricks - the farm was at the cutting edge in its time.
With its own private beach, private woodland walks and secret gardens, the Farm House and neighbouring Lake Cottage now offer two unique and stunning 5 and 4 star, gold rated, self catering properties of the highest standard in an exclusive and peaceful setting.
This spring saw the esteemed photographer Ben Wood commissioned to photograph these historic properties, these are his thoughts on the shoot.
"Having photographed Barton Manor for the two previous owners in 2001 and 2011 it was nice to hear from Al and Dawn Haig-Thomas who commissioned me to photograph the Farmhouse and Lake House this spring. I spent a couple of days photographing a variety of interiors and exteriors and by luck we managed to choose a couple of sunny days which was quite an achievement this year!"
Ben continues "The interiors photographed very well especially the Farmhouse kitchen with wood stove, and the master bedroom with en suite bathroom. There were also some lovely details such as the wooden stair case and bathroom fittings that showed the character and quality of the property. The Lake House has some lovely features such as the spacious sitting room and bedrooms but I was particularly pleased with the photographs of the beautiful lake which can be seen from all the rooms in the property.
"The highlight of the job for me was the installation of some of my framed photographs in the Farmhouse. Dawn was keen to introduce elements of the Isle of Wight so we settled on some of my island landscapes: The Bembridge Fort Walk in the hallway, The Brambles Cricket Match in the bathroom and a couple of my shell details in the bedrooms.
"I'm booked to photograph the main gardens and the beach at Barton later in the spring so hopefully these photographs will complete the picture of what is a very special Isle of Wight location."
Some of Ben's photographs have been used by Wight Locations and can be seen here Barton Manor Farmhouse and Lake Cottage.
Barton Manor Farmhouse and Lake Cottage are available for holiday let through Wight Locations.
About Ben Wood
English photographer Ben Wood started his career at the age of twenty-one first as an assistant to photographers as varied as Don Freeman, David Bailey and Sandra Lane, then setting up on his own as a commercial photographer. The varied nature of his work has taken him to many locations and it's the eclectic mix of work from beautiful interiors, dramatic landscapes to arresting portraiture
Having moved out of London in 2000, Ben Wood is now based at his studio in Bembridge on the Isle of Wight. Living on the island with its beautiful landscape and world class sailing at Cowes both inspires and informs Ben's ever evolving portfolio.
About Wight Locations Ltd
Wight Locations is a self catering holiday cottage company based in Seaview on the Isle of Wight, providing more than 150 quality coastal and rural properties across the Island.
Wight Locations is a member of Cottageline, a group of quality holiday cottage companies offering over 5,500 cottages throughout the UK.
For more information: contact the Wight Locations team on 01983 811418 or email enquiries(at)wightlocations(dot)co(dot)uk.