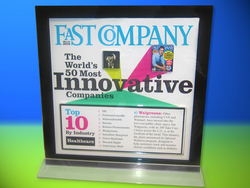 I love the 'Yes We Can Do It' attitude of everyone at Benchmark
Palm Desert, CA (Vocus) September 2, 2010
Recently, Suzi McDonough, marketing director of Christian publisher, Ellie Claire, of Summerside Press, was having delivery and breakage problems with their retail displays that were being shipped to outlets throughout North America, Australia and New Zealand. Upon contacting a wire display fabricator, they were directed to Benchmark. Within weeks, Benchmark's prototype display was delivered to the publisher who is superbly pleased with the process and quality of workmanship. McDonough said, 'not only does the craftsmanship and design surpass the former display, Benchmark's pricing is better.' "I love the 'Yes We Can Do It' attitude of everyone at Benchmark," said McDonough. The first of several 1000 pieces were ordered and scheduled for delivery to retail outlets in early September.
When Walgreens Drug Stores was recognized by Fast Company as one of the Worlds 50 Most Innovative Companies and Top 10 companies in the healthcare industry, recognition and awards were in order. Walgreens innovative wellness program is an industry leader. Articles and photographs are wide spread. Walgreens wanted to capture and show off the accolades for all to see, in a custom display. They thought the solution to keeping it all alive was to embed the photos and articles in acrylic.
Walgreens marketing agency, Downtown Partners Chicago (DPC) contacted Benchmark. Dick Frohman, CEO of Benchmark explained how embedding a product in acrylic is tricky business and in the case of paper, the paper absorbers the liquid materials when casting. "The best choice is to entrap the document, similar to framing a photograph", said Frohman.
Walgreens had several very special photographs and articles they wanted to showcase in a dynamic award presentation. DPC working together with Benchmark Displays creative design team reproduced the photographs and awards. Benchmark took DPC's vision and created an acrylic entrapment. Measuring twenty-four inches square and approximately an inch deep, the multi layer entrapment with laser cutouts rests in a supporting stand. The unique design pops in 3D.
Walgreens was so impressed with the entrapment presentation; an additional fifty pieces have been ordered and are scheduled for delivery immediately.
Benchmark Displays of Palm Desert, California recently acquired Taymar Plastics and has continued to supply stock acrylic displays for point of purchase displays, retailers, real estate professionals and more.
Benchmark Displays, a woman owned business with more than $2.2 Million annual sales, located in Palm Desert, California, has more than 25 years experience designing and making custom acrylic displays that put the spotlight on products and documents.
# # #