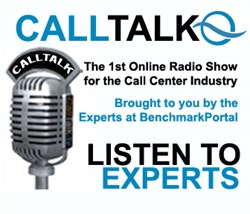 Santa Barbara, CA (PRWEB) January 16, 2013
BenchmarkPortal will air a new online radio show on CallTalk, discussing making investments in employee training. Organizations that make large investments in people typically have lower employee turnover, which is linked to higher customer satisfaction and profitability. On average, companies are investing $1,200 per employee in training. Are those investments paying off? Susan McDonald Osborn, Call Center Learning Strategist, will present common flaws in training programs and provide practical strategies for ensuring that training dollars translate to performance on the call center floor.
The host for this show is Bruce Belfiore, CEO at BenchmarkPortal. The guest speaker is Susan McDonald Osborne, Strategic Learning Specialist, BenchmarkPortal.
The free online radio show will air Wednesday, January 23rd, 2013, at 10 a.m. PT/1 p.m. ET. Click here to listen to CallTalk, (http://www.benchmarkportal.com/call-center-newsresources/calltalk-online-radio-show)
About CallTalk
A fun and exciting online program for education and learning, for the customer service industry. Once a month, broadcast directly over the Internet to your desktop, covers informative and educational topics that impact the contact center and customer service today.
About BenchmarkPortal
BenchmarkPortal's founders pioneered the first contact center benchmarking study in 1995. Now custodian of the largest database of contact center metrics in the world, BenchmarkPortal is a leader in certification, training, consulting and research for the customer contact industry. Its team of professionals has gained international recognition for expertise and innovation in best practices. BenchmarkPortal's mission is to help management optimize the performance of their center in terms of both cost and quality, encourage customer loyalty and build enterprise value. For more information on BenchmarkPortal, call 1-800-214-8929 or visit http://www.BenchmarkPortal.com