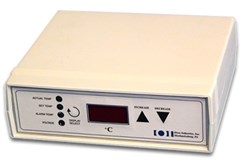 (PRWEB) September 23, 2013
Xinmeiya Technology is the distributor of Oven Industries products in the PRC. Xinmeiya Technology announces their benchtop temperature controller. This solid state MOSFET bidirectional desktop model has an internal power supply, full H Bridge and is capable of load currents up to 4A in H bridge mode. It can control resistive heaters or TE modules with load currents up to 5A utilizing the unidirectional output and internal supply. If used in conjunction with an external power supply as heat or cool only 10A can be achieved. User friendly PC programmable via the RS232 com port which has 1500VAC isolation. Once the desired parameters are established the PC may be disconnected and the controller stands alone. All parameter settings are retained in non-volatile memory. The controller has a digital display for control functions.
See our web site for features and specifications
Oven Industries has many unique options for customized, industrial quality temperature controllers and sensors. All products are designed by experts and have been used in a wide variety of applications, including commercial, industrial, military, medical equipment and food processing.
PLEASE FIND MANDARIN TRANSLATION ATTACHED
http://www.xinmeiyatech.com
http://www.ovenind.com/bv/Products/5C7-195-Benchtop-Temperature-Controller__5C7-195.aspx
Media Contact
Aileen Sun
Xinmeiya Technology.
aileen.sun(at)xinmeiyatech(dot)com
+86(27)88161550