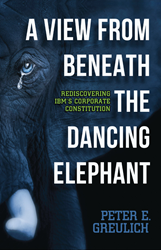 The twenty-first-century IBM has misplaced Respect, Service and Excellence. It has lost its culture, its constitution and its way.
Austin, TX (PRWEB) August 05, 2014
MBI Concepts Corp. today announced A View from Beneath the Dancing Elephant, a new book by author and speaker Peter E. Greulich that serves as a counterpoint to former IBM CEO Louis V. Gerstner's 2002 memoir, Who Says Elephants Can't Dance?
The book examines how one of the most respected corporations of the 20th century transitioned into one struggling with employee attrition, disappointed customers and a sinking reputation.
Greulich, who spent 30 years at IBM, credits Gerstner with financially saving the company, but asserts that he never realized how much of his success came from accidentally tapping into an 80-year-old culture he never truly understood. That culture, created by the company's founders, the Watsons, was codified as the IBM Basic Beliefs:

Respect for the Individual
Service to the Customer
The Pursuit of Excellence
Greulich believes that IBM's 21st century leadership has lost sight of these beliefs, and that for IBM to regain its 20th century stature, it must rediscover its heritage.
According to the consultant Marcia Daszko, Greulich's book is more than just a case study: it "addresses a major issue facing America and the world: the lack of leadership and the shift from invigorating cultures to work environments full of bureaucracy, frequent layoffs, and executive arrogance. Peter's call to action for leaders to lead is mandatory. Will they rise to the challenge?"
A View from Beneath the Dancing Elephant is available worldwide on Amazon, Google Play, iTunes, Smashwords and local book stores such as Barnes and Noble. For more information, visit the book website at http://www.beneaththedancingelephant.com/a-view-from-beneath-the-dancing-elephant.html.
Paperback: ISBN-13: 978-0-9833734-6-9, Price: $14.99
Amazon Kindle: ISBN-13: 978-0-9833734-7-6, Price: $9.99
iTunes, Google Play or Barnes and Noble EPUB: ISBN-13: 978-0-9833734-8-3, Price: $9.99
About the Author
Peter E. Greulich is the president of MBI Concepts Corporation, which creates corporate environments that encourage employee ownership. He spent 30 years at IBM as a salesman, brand manager, worldwide product/market manager and sales instructor, and has interviewed thousands of IBMers worldwide. This is his second book about IBM.
Greulich will be taking speaking engagements and book tours starting September 1, 2014.
# # #
Contact:
Peter Greulich
pgreulic@mbiconcepts.com
http://www.mbiconcepts.com/press.html
+1 (512) 762-1620