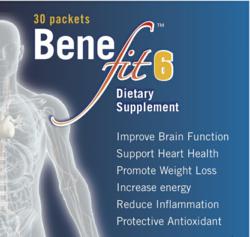 To me, the biggest advantage is the lowering of triglycerides and the insulin levels [which dropped about 20 percent]
Rancho Palos Verdes, CA (PRWEB) October 10, 2012
Benefit6 Whole Body Protection by I Do Strive, LLC is the first product to focus on six key areas of health to provide consumers with the most comprehensive whole body protection supplement including reducing chronic inflammation.
Research from Penn State finds the spice turmeric does the heart good by lowering triglyceride and insulin levels. "Elevated triglycerides are a risk factor for heart disease," explains researcher Sheila West.
Her study concluded that incorporating turmeric in an otherwise high fat meal actually lowered triglycerides and insulin levels. Levels dropped by about one third for those using turmeric in the meal. "It was surprising," West told us. "I didn't expect such a large decrease."
"To me, the biggest advantage [found in the study] is the lowering of triglycerides and the insulin levels [which dropped about 20 percent]," explains cardiologist Ravi Dave of he University of California, Los Angeles.
Researchers from Chiang Mai looked at 121 patients (on average 61 years old) who underwent scheduled cardiac bypass surgery. Three days before surgery until five days post-op, one group took 4 grams per day of encapsulated curcuminoids. The other group took a placebo.
Among the curcuminoid group, only 13.1 percent had heart attacks during recovery after surgery, compared to 30 percent of the placebo group. Researchers concluded that patients in the curcuminoid group had a 65 percent lower chance of heart attack, according to Reuters.
What is it about curcuminoids that helps protect against heart attack? "The antioxidant and anti-inflammatory effects of curcuminoids may account for their cardioprotective effects shown in this study," the study authors write in their report.
Benefit6 is formulated to provide Whole Body Protection by focusing on key areas of health, including brain function, cardiovascular health, weight loss, energy production, inflammation reduction and antioxidant support. Benefit6 is conveniently packaged for optimal use and results.