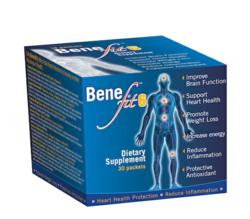 "In prehypertension subjects, dark chocolate 30 g/day increased NOx serum levels and decreased systolic blood pressure after 15 days of treatment."
Rancho Palos Verdes, CA (PRWEB) October 04, 2012
Benefit6 is formulated to provide Whole Body Protection by focusing on six areas of health, including heart health support with key ingredients such as pure Cocoa powder.
More and more research solidifies the heart health benefits of pure cocoa (the essential ingredient of dark chocolate). Two studies further bring to light the cardiovascular health benefits associated with the consumption of cocoa.
In the first study, the goal was to study the effects of dark chocolate for fifteen days on Nitric oxide (NO) with regards to blood pressure on people with prehypertension. "The study was a parallel randomized clinical trial. A total of thirty-two subjects was divided into two groups using block randomization. Sixteen subjects received 30 g/day dark chocolate and dietary counseling (treatment group) and the other 16 subjects received white chocolate 25 g/day and dietary counseling (control group) for fifteen days." The conclusion was quite impressive. "In prehypertension subjects, dark chocolate 30 g/day increased NOx serum levels and decreased systolic blood pressure after 15 days of treatment." (1)
According to the abstract from the publication Maturitas, "Cardiovascular disease is the leading determinant of mortality and morbidity in women. Functional foods are attracting interest as potential regulators of the susceptibility to disease. Supported by epidemiological evidence, chocolate has emerged as a possible modulator of cardiovascular risk. Chocolate, or cocoa as the natural source, contains flavanols, a subclass of flavonoids. The latter years have witnessed an increasing number of experimental and clinical studies that suggest a protective effect of chocolate against atherogenesis. Oxidative stress, inflammation, and endothelial function define three biological mechanisms that have shown sensitivity to chocolate. Moreover, the consumption of chocolate has been involved in the protective modulation of blood pressure, the lipid profile, the activation of platelets, and the sensitivity to insulin. Dark chocolate seems more protective than milk or white chocolate."
Benefit6 is formulated to provide Whole Body Protection by focusing on key areas of health, including brain function, cardiovascular health, weight loss, energy production, inflammation reduction and antioxidant support. Benefit6 is conveniently packaged for optimal use and results.  
By
Benefit6
1. Acta Med Indones. 2011 Oct;43(4):224-8.
Effect of dark chocolate on nitric oxide serum levels and blood pressure in prehypertension subjects.
Sudarma V, Sukmaniah S, Siregar P.
2. Maturitas. 2011 Aug;69(4):312-21. Epub 2011 Jun 12.
The impact of chocolate on cardiovascular health.
Fernández-Murga L, Tarín JJ, García-Perez MA, Cano A.