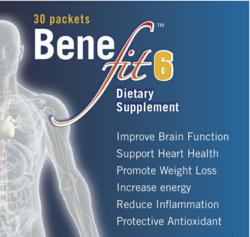 "Cocoa flavanols (CF) positively influence physiological processes in ways that suggest their consumption may improve aspects of cognitive function."
Rancho Palos Verdes, CA (PRWEB) December 03, 2012
Benefit6 Whole Body Protection by I Do Strive, LLC is the first product to focus on six key areas of health to provide the most comprehensive whole body protection supplement available including improved brain function and cognitive abilities. Ingredients including pure cocoa powder and omega-3 have been clinically proven to enhance brain function.
According to a study published in Physiology Behavior, "In a randomized, double-blind placebo controlled trial, 63 middle-aged volunteers aged between 40 and 65 years were administered a daily chocolate drink containing 250 mg or 500 mg cocoa flavanols versus a low cocoa flavanol (placebo) drink over a 30-day period. Participants were tested at baseline as well as at the end of the treatment period on a test of Spatial Working Memory. Steady State Probe Topography (SST) was used to assess neurocognitive changes associated with cocoa flavanol supplementation during the completion of the Spatial Working Memory task."
The study concluded that differences in brain activation can be interpreted as evidence of increased neural efficiency in spatial working memory function associated with chronic cocoa flavanol consumption.
In another study by the Journal of Psychopharmacology, "Cocoa flavanols (CF) positively influence physiological processes in ways that suggest their consumption may improve aspects of cognitive function. This study investigated the acute cognitive and subjective effects of CF consumption during sustained mental demand. In this randomized, controlled, double-blinded, balanced, three period crossover trial 30 healthy adults consumed drinks containing 520 mg, 994 mg CF and a matched control, with a three-day washout between drinks. Assessments included the state anxiety inventory and repeated 10-min cycles of a Cognitive Demand Battery comprising of two serial subtraction tasks (Serial Threes and Serial Sevens), a Rapid Visual Information Processing (RVIP) task and a 'mental fatigue' scale, over the course of 1 h. Consumption of both 520 mg and 994 mg CF significantly improved Serial Threes performance. The 994 mg CF beverage significantly speeded RVIP responses but also resulted in more errors during Serial Sevens. Increases in self-reported 'mental fatigue' were significantly attenuated by the consumption of the 520 mg CF beverage only. This is the first report of acute cognitive improvements following CF consumption in healthy adults. While the mechanisms underlying the effects are unknown they may be related to known effects of CF on endothelial function and blood flow."
Benefit6 is formulated to provide Whole Body Protection by focusing on key areas of health, including brain function, cardiovascular health, weight loss, energy production, inflammation reduction and antioxidant support. Benefit6 is conveniently packaged for optimal use and results.  
Benefit6
Consumption of cocoa flavanols results in acute improvements in mood and cognitive performance during sustained mental effort.
Scholey AB, French SJ, Morris PJ, Kennedy DO, Milne AL, Haskell CF.
J Psychopharmacol. 2010 Oct;24(10):1505-14. Epub 2009 Nov 26.
PMID: 19942640 [PubMed - indexed for MEDLINE]