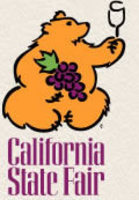 I am deeply honored to be asked to participate as a wine judge in this year's California State Fair Wine Competition
Lynden, WA (PRWEB) June 9, 2008
Benefit auctioneer Tom DiNardo has been appointed one of this year's featured wine judges at the California State Fair Wine Competition. This event is firmly established as the oldest and most prestigious of American Wine Competitions in North America. Since 1855 this honored wine competition has welcomed entries, limited to vitis vinifera grapes, from only California bonded wineries selling retail. Last year, a prodigious 661 wineries entered 3,029 varieties of wine into this annual wine judging.
"Applying for the position of wine judge was easy. Making the final cut as one of the chosen few was far more rigorous," Mr. DiNardo exhales in relief. The California State Fair maintains a roster of well over 200 qualified wine judges, but only 68 are selected and utilized for each year's wine judging. For over 150 years, the California State Fair's panel of expert wine judges has recognized the best wines of the state and those wineries' and vintners' dedication to the Golden State's viticulture and enology industry. Coveted awards, such as the Best of Show Red, Best of Show White, and Best Value Wine are awarded by the panels of wine judges. "I am deeply honored to be asked to participate as a wine judge in this year's California State Fair Wine Competition," says DiNardo.
The winners of the California State Fair Wine Competition are determined by the distinguished panels of wine judges which come from a wide range of diverse backgrounds. Each wine judge's qualifications are reviewed before they are accepted into a wine panel and permitted to evaluate the wines. Wine judging panels are comprised of sommeliers, wine educators, wine makers, wine journalists, retailers and wholesalers to wine collectors, as well as restaurant trade professionals. These expert wine judges share their personal opinions before reaching a consensus to determine the award winning wines.
Tom DiNardo is the founder of DiNardo & Lord Auctioneers, which has raised over 35 million dollars for nonprofit groups and charities since 1993. "I am the only benefit auctioneer to become a wine judge in the California State Fair Wine Competition," says DiNardo. Tom attributes his selection as a wine judge based upon his training as a sommelier, his accomplishments as a wine writer, wine educator, wine auctioneer and certified wine appraiser, but most importantly his passion.
Mr. DiNardo's passion has not only garnered him great success as one of the nation's most recognized benefit auctioneers, but his passion for wine has also earned him respect and admiration from within the wine industry as well. "Wine education is a lifelong journey. I will continue my journey this summer with a sommelier tour in France, and later an advanced wine tasting seminar offered by the U.C. Davis Viticulture Department," says DiNardo. Tom's next aspiration in this area is to be able to claim one of the coveted wine judge seats in next year's wine competition.
This year's California State Fair Wine Competition is scheduled for June 11th through the 13th. The Grape & Gourmet wine and food event follows on July 10th and precedes the California State Fair, held August 15th through September 1st.
# # #