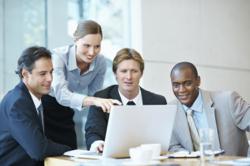 This solution helps employers communicate effectively and efficiently to their employee populations.
Schaumburg, IL (PRWEB) February 26, 2013
Benefit Express Services, LLC, a leader in providing benefits administration solutions for large, medium and small organizations, announced the launch of My Employee Communicator, a new feature in their suite of human resource administration tools. My Employee Communicator is an online communication tool that is directly integrated into Benefit Express' benefits administration and online enrollment system, My Benefit Express™. The latest enhancement provides clients' human resource staff the freedom and flexibility to send out mass communication to their employees on demand.
Benefit Express' My Employee Communicator enables clients to:

Use predefined communications or create their own
Send electronic or paper communications
Send to the entire employee population or only specific groups of individuals
Schedule the release date, time and frequency of each communication
Encrypt and secure emails
Automatically attach each individual's confirmation statement to the tailored message
By integrating My Employee Communicator into Benefit Express benefits administration system, clients benefit from easier and more streamlined employee communication options and a reduction in their administrative load. "Our top priority is to provide our clients with solutions to the challenges they face every day," said Maria Bradley, president and founder of Benefit Express. "This solution helps employers communicate effectively and efficiently to their employee populations."
About Benefit Express
At Benefit Express, the focus is on flexible administration solutions. Their self-service platform - My Benefit Express™ - delivers tools which help clients efficiently manage HR & Benefits Administration. With My Benefit Express™ clients have direct access to: customized content delivery, enrollment assistance, employee benefit education tools, transactional administrative processing/tracking, carrier billing reconciliation, vendor data-links and detailed HR reporting. Benefit Express' solutions provide the flexibility for clients to choose how, where and by whom work gets done. For more information, visit http://www.BenefitExpressOnline.com