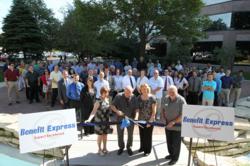 This move marks a great milestone for our company. It reflects the continuous growth we have experienced as a result of our many successful client partnerships.
Schaumburg, IL (PRWEB) September 05, 2012
Benefit Express Services, LLC, a leader in providing benefits administration for large, medium, and small organizations, is pleased to announce the relocation of their headquarters to 1700 E. Golf Road in Schaumburg. Benefit Express occupies the 21,295 square foot, 10th floor of the Two Century Centre building.
"After three years of extensive market evaluation and negotiations with various landlords, the 1700 East Golf Road building prevailed by offering the most aggressive lease package including a significant improvement allowance and free rent amount along with company signage atop a high rise Class A office building facing interstates 90 and 290. The economics coupled with the building's proximity to amenities for Benefit Express employees proved to be the right combination to secure Benefit Express' long term tenancy," said Rich Schulz, President of The J. Rich Company, LLC and Benefit Express' Real Estate Broker. A ribbon cutting ceremony was held on August 28 to mark the occasion.
Maria Bradley, president and founder of Benefit Express, and Schaumburg Village President Al Larson cut the ribbon in front of 140 excited Benefit Express employees. Village Trustee Frank Kozak and Village Clerk Marilyn Karr also attended the celebration. Other attendees included: Zak Schuttler and Jeff Schuttler from Victor Construction, architect James Jordan, Gary McIntosh from Business Office Systems, Bonnie Calame from Transwestern, and Benefit Express' Real Estate Broker, Rich Schulz.
"We are happy that Benefit Express decided to move to Schaumburg," said Village President Al Larson. "Maria Bradley, founder and visionary behind Benefit Express, was recently recognized as one of the top 25 Influential Women in Business for the Chicago area. We wish Maria and Benefit Express success in their new Schaumburg location," said Larson.
Benefit Express employees will be able to enjoy several amenities in their new location, including: a fitness center, dry cleaning services, a delicatessen, and a childcare center.
"This move marks a great milestone for our company. It reflects the continuous growth we have experienced as a result of our many successful client partnerships," said Maria Bradley. "I am proud of our employees and our accomplishments and believe that we, along with our clients, are excited for this new chapter."
Benefit Express is a highly flexible, customer service driven benefits administration solutions firm that provides HR professionals with the tools and services necessary to simplify the benefits administration process. They provide leasing options for their software as well as full outsourcing services depending on the needs of their clients. Benefit Express' solutions provide the flexibility for clients to choose how, where, and by whom work gets done. For more information, visit http://www.BenefitExpressOnline.com.
About Benefit Express
At Benefit Express, the focus is on flexible administration solutions. Their self-service platform - My Benefit Express™ - delivers tools which help clients efficiently manage HR & Benefits Administration. With My Benefit Express™ clients have direct access to: customized content delivery, enrollment assistance, employee benefit education tools, transactional administrative processing/tracking, and carrier billing reconciliation, vendor data-links, and detailed HR reporting.