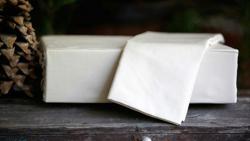 San Diego, CA (PRWEB) May 10, 2013
Organic and all-natural products continue gaining popularity with a segment of consumers, but many continue to wonder if they offer any tangible benefits beyond peace of mind. The Sleepy Shopper, a bed blog, takes a look at organic bedding materials specifically in their latest article, titled "Benefits of Natural and Organic Bedding".
The Sleepy Shopper begins by introducing six of the most common natural materials in bedding. These include organic cotton, bamboo, silk, wool, natural latex, and plant-based foams. For each material, the article explains how they are derived and what they offer. The advantages considered focus not only on environmental benefits but also on the end user.
Cotton remains one of the most popular fabrics for bedding due its soft feel and breathability. However, The Sleepy Shopper explains that a majority of cotton is currently produced using pesticides and insecticides, accounting for up to 25% and 10% of global usage overall according to the Organic Trade Association. These chemicals affect the local environment and ecosystems, create hazards for laborers, and residues make their way into buyers' homes. The blog highlights that organic cotton reduces this impact while offering a healthy, comfortable, and durable product.
Bamboo, which yields a silky smooth fabric, is seen as beneficial since it is a highly-renewable resource that requires little to grow, and proves effective at regulating temperatures and wicking moisture. Silk offers the benefit of luxurious smoothness and moisture-wicking, but may not be for all due to the cost and humane aspects. Natural will is the last textile discussed, and its advantages include being highly sustainable, excellent at temperature regulation, and resistant to flame.
The other two materials presented are becoming popular in specialty mattresses. Natural latex is tapped from trees and requires no toxic additives to produce. The Sleepy Shopper recommends Astrabeds.com for their 100% natural Talalay latex mattresses with wool and organic cotton covers, and for organic cotton sheets. Another alternative proves plant-based foams, which substitute a portion of petroleum products for plant-based oils like soy to reduce impact. The blog points out that some brand like Amerisleep eliminate all toxic VOCs and manufacture with zero emissions.
Summarizing the information, The Sleepy Shopper also compares the overall pros and cons of buying natural and organic bedding. While drawbacks mentioned are prices and availability, they are outnumbered by benefits which include ease of care, reduced chemical exposure, comfort, and eco-friendliness.
The article offers a basic primer on materials used in bedding and what advantages consumers can expect with natural and organic options. The tips and recommendations will likely prove helpful to those considering a healthier lifestyle or concerned about their impact on the environment.
TheSleepyShopper.com offers insights and information for consumers, focusing exclusively on mattresses, pillows, bedding and sleep products. Utilizing an accessible, responsive blog format, the website aims to help educate consumers about their options and on making better buying decisions. From industry research, to product reviews, and general guides, the blog is a must-read for anyone in the market for a new mattress.