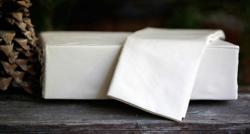 Portland, OR (PRWEB) June 10, 2013
With healthy, green and natural serving as the latest product buzzwords, more and more consumers are seeking out answers as to what makes these alternatives superior to conventional options. One product of particular interest proves organic cotton, which is making headway in both apparel and home furnishings.
Sleep Junkie, a mattress research and information website, looks at how organic cotton in mattresses can benefit consumers in their latest article, "5 Benefits of Pairing Organic Cotton With Latex Mattresses". In addition, considering leading benefits of organic cotton, the article examines what differentiates organic cotton from conventionally grown cotton and briefly discusses retail sources for beds using this material.
Explaining what the term organic cotton encompasses, Sleep Junkie conveys that textiles with label must stem from crops grown without synthetic or toxic pesticides or insecticides. Organic requirements also include stipulations to protect soil and natural ecosystems as well. The significance of this is expressed both in the designation of cotton as the "dirtiest crop" and the large proportions of water and pesticides used in conventional methods.
The five benefits Sleep Junkie describes in detail include less chemicals in the ground, less chemicals in people's homes, hypoallergenic properties, environmental advantages, and improved comfort. Other honorable mentions include factors like durability, smoothness, and biodegradability.
For those looking for more information or searching for healthier bedding options, Sleep Junkie summarizes a report from Consumer Mattress Reports on latex beds and brands and includes their comparison chart with helpful information. Eight brands that sell natural latex beds paired with organic cotton are presented, though natural Talalay latex mattresses from Astrabeds.com are highlighted for value, transparency, and good overall review averages.
Sleep Junkie's writeup of the benefits organic cotton offers may prove eye-opening for those unaware of the impact of conventional products. The article highlights several long-term benefits and implications for consumers to consider and offers a hopeful outlook for the growth of more natural and sustainable options.
SleepJunkie.org is a blog dedicated to all things sleep, from mattresses, bedding, to sleep research and more. With a focus on making mattress research easier, the website offers independent assessments and reviews of the latest brands and technologies. Readers also enjoy timely updates on mattress-related news and expert help in selecting the best mattress to fit their needs and lifestyle.