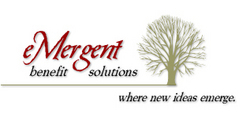 With EBS' sophisticated technology and expertise, we will be able to work with Phoenix to provide a truly integrated range of HR and Benefit services for their employees
Camden, NJ (PRWEB) September 24, 2008
eMergent Benefit Solutions, Inc. ('EBS') announced a contract with Benefit Insurance Group ('BIG'), one of the Mid-Atlantic's premier insurance brokerage firms providing 'Big Benefits - Small Costs' services, to offer licensee rights to its benefits administration software services.
As part of the agreement, EBS will provide its on-demand benefit administration software that will be used by BIG to begin administering its client's health and welfare plans enabling the integration of HR functions and communications during the 2009 Plan Year. BIG announced Phoenix Services, LLC, as the initial client to partner with both groups during the first quarter, 2009.
EBS' proprietary Web-enabled health and welfare benefits administration software incorporates several innovations and changes the paradigm of how administration services are provided resulting in a unique solution that leverages its technology, administration and consulting expertise while combining proven lean six sigma methodologies into proprietary Software as a Service (SaaS) solutions.
The new contract with BIG and Phoenix Services, LLC demonstrates EBS' ability to deliver a unique and modern benefits administration solution that provides administrators and their clients the technology and services often out of reach to small and mid-market companies.
"With EBS' sophisticated technology and expertise, we will be able to work with Phoenix to provide a truly integrated range of HR and Benefit services for their employees," said Bob Owen, Principal, Benefit Insurance Group. "We were impressed with their depth of industry expertise and unique approach they bring to the market that results in value add services for my clients."
Owen said his clients have been struggling with figuring out how to leverage a sophisticated solution that meets both an Employers and Employees needs at an affordable price and delivers true ROI. Phoenix Services, LLC agrees that these services are long coming to a broader market than just the Fortune 500.
"The need to have a superior benefit solution that streamlines our internal processes and reduces manual efforts is key for our HR staff, who can now focus on more strategic initiatives for Phoenix," said Joe Rozman, HR Director, Phoenix Services. "We also see using the EBS software as a way for us to communicate efficiently and effectively with our employees, while ensuring we meet our internal HR goals and overall business goals."
Third-party administrators and vendors interested in learning more about this benefits software solution should contact Lisa Lange directly at 609.707.1562.
About eMergent Benefit Solutions (EBS):
eMergent Benefit Solutions is a technology services firm focused on providing Benefit Administration Solutions using Six Sigma methods to improve business processes. Our expertise is rooted in employee benefits administration and administration consulting. We provide technology solutions for benefits administrators. Our clients rely on us to challenge standard approaches to define, analyze, design, enable and sustain effective process improvements for the HR service delivery model. EBS' mission is to provide leading technologies that have a significant impact on their customers' human resources strategic goals and financial goals.
About Benefit Insurance Group (BIG):
Benefit Insurance Group is a premier insurance brokerage firm specializing in partnering with best of breed service companies for the advancement of its client's "superior" benefit plans in the Mid-Atlantic region. The three legs to a "superior" benefit plan are benefit design, administration and communication.
Our BIG "Choice" Benefits cafeteria plan has a great deal of appeal to companies that are anxious to install a system, which will enable them to better manage their ever increasing employee benefit costs. When employees have benefit choices, they are more satisfied with an employers benefit plan because of the varying beneift needs of employees and their families.
Our tag line says it all - BIG BENEFITS • SMALL COSTS
About Phoenix Services, LLC:
Phoenix Services LLC provides responsive world-class service to steel producers around the globe. Core services include slag handling utilizing slag pot carriers or the traditional slag pit digging with front-end loaders; the recovery and sizing of metal to our customer's specification; and processing slag for use by our steel mill customer or marketing processed slag material for aggregate use.
Additionally, we offer customized scrap handling and processing; charge box loading and transport; scrap upgrading; ladle and furnace refractory tear-out and tap-hole drilling; road sweeping and watering service for dust control; vacuum truck service throughout the plant; locomotive transport service; mobile equipment rental; ladle transport service; and a number of other services.
A distinctive strength of Phoenix Services is the quality and productivity of our processing plants, which assures maximum metal recovery for return to our steel company customer and contributes to our expertise in marketing steel mill by-products, including slag, mill scale, refractory and residual metallics.
###