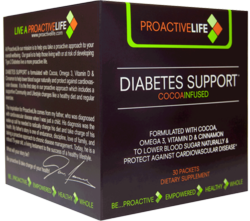 "In several studies, alpha-lipoic acid appears to help lower blood sugar levels." UMMC
Rancho Palos Verdes, CA (PRWEB) May 09, 2012
Diabetes Support contains alpha-lipoic acid and according to recent studies it may provide assistance for people experiencing peripheral neuropathy.
Alpha-lipoic acid is an antioxidant made by the body and found in every cell. It assists in turning glucose into energy. Antioxidants are known to attack "free radicals," which are by-products when the body turns food into energy. The effects of free radicals make it harder for the body to fight off infection and can also lead to organ and tissue damage.
"In several studies, alpha-lipoic acid appears to help lower blood sugar levels. Its ability to kill free radicals may help people with peripheral neuropathy, who have pain, burning, itching, tingling, and numbness in arms and legs from nerve damage." according to University of Maryland Medical Center
According to WebMD, "Alpha-lipoic acid seems to help prevent certain kinds of cell damage in the body, and also restores vitamin levels such as vitamin E and vitamin C. There is also evidence that alpha-lipoic acid can improve the function and conduction of neurons in diabetes. Alpha-lipoic acid is used in the body to break down carbohydrates and to make energy for the other organs in the body."
ProactiveLife (http://www.proactivelife.com) was founded in 2011 to help people take control of their health. The approach incorporates community, lifestyle changes, and natural supplements which have been proven to assist people with blood sugar and energy regulation.
Diabetes Support contains ten ingredients which may lower blood sugar levels including alpha-lipoic acid, magnesium, turmeric, cocoa, cinnamon, omega-3, vitamin D and others. Along with lifestyle changes including diet and exercise Diabetes Support is a new proactive approach to overall health management.