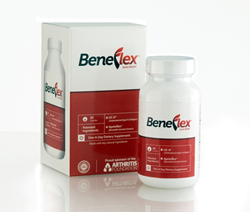 'Beneflex was thoughtfully created...'- Dr. David Katz, MD
Charlotte, NC (PRWEB) December 30, 2013
Beneflex® Joint Relief, a newly-launched joint support supplement, was recently showcased on the popular daytime television show, 'The Doctors.' Beneflex was created and is marketed by Direct Digital, LLC, the company behind such leading wellness supplements as Instaflex® Joint Support, Nugenix® Free Testosterone Booster, Nugenix® Prostate Support, Lumiday® Mood Enhancement, Luminite® Sleep Support and Slim Science™.
The segment, which focused on joint health and at-home means by which individuals can help minimize joint discomfort, featured a discussion between show host, Dr. Andrew Ordon, and Direct Digital's Chief Medical Advisor, Dr. David Katz. The two physicians shared tips and methods by which they have witnessed success in helping manage joint issues. Both staying active and using supplementation as part of an overall wellness program and healthy lifestyle were suggested. Dr. Katz, who is also the is the founding director of Yale University's Prevention Research Center, offered various merits and benefits of using a joint support supplement such as Beneflex®.
Dr. Katz noted that, "Beneflex was thoughtfully created," and went on to highlight the scientifically significant ingredient profile behind Beneflex Joint Relief. Noting it is an "effective use of a patented form of collagen, along with Hyaluronic Acid, and Turmeric, it touts a hand-selected blend of ingredients for optimum efficacy." Dr. Katz also told viewers that some individuals may experience relief after seven days and added that key ingredients are included at an effective, yet safe level, to ensure best results.
Dr. Katz is an expert in preventive care and a watchful proponent of supplementation as part of a positive overall health and wellness plan. In addition to serving as Direct Digital's Chief Medical Advisor, he is a two-time diplomate of the American Board of Internal Medicine, a board-certified specialist in Preventive Medicine/Public Health, and a clinical instructor in medicine at the Yale School of Medicine. Furthermore, Dr. Katz serves as Editor-in-Chief of the journal Childhood Obesity, founder and President of the non-profit Turn the Tide Foundation, and medical director for the Integrative Medicine Center at Griffin Hospital in Derby, CT. He is a blogger and medical reviewer for The Huffington Post, US News & World Report and is an INfluencer blogger for LinkedIn. His most recent book, Disease Proof, is now on bookshelves across America and is also available online at Amazon.com.
Beneflex® Joint Relief is a clinically researched source of support in the fight against joint discomfort and provides an alternative to Glucosamine supplementation. As Beneflex is free of shell-fish, it may serve as an ideal choice for individuals who suffer from certain food allergies. Furthermore, Beneflex® is made without Gluten.
Beneflex® Joint Relief is currently available at Beneflex.com, GNC.com, and all GNC and Vitamin Shoppe retail stores nationwide. To learn more about Beneflex and the entire portfolio of Direct Digital products, please visit http://www.Beneflex.com or http://www.DirectDigitalllc.com.
About Direct Digital, LLC
Direct Digital, LLC, based in Boston, MA and Charlotte, NC, is a leader in brand creation, product development and online marketing within the health and wellness space. The company owns multiple leading supplement brands such as Slim Science™, Beneflex®, Instaflex®, Nugenix®, Lumiday® and Luminite®. All Direct Digital products are distributed throughout North America and internationally, including Canada and the Middle East. For additional information, please visit http://www.DirectDigitalllc.com.
###