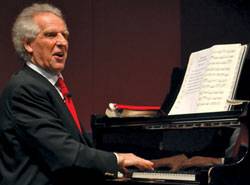 New York, NY (PRWEB) June 20, 2013
Jim Case Carlton's Training Solutions announced plans to roll out The Art of Possibility video to a larger demographic in attacking the world market. In a tough global economy, motivation is in dire need and brings good energy to organizations. Jim Case Carlton's Training Solutions recommends The Art of Possibility video for the positive cycles it brings to companies and its employees.
Managers, athletes, coaches, teachers and parents have endowed their listeners with the powers of possibility. That visualization can help create messages to the brain that allows it to take action to make those thoughts reality. But do negative thoughts follow the same pattern to fruition?
Ben Zander is the conductor of the Boston Philharmonic and has discovered and distinguished patterns between successful people and those who fail. Successful people see the possibilities of their actions and thoughts. They see a way that things can go well. And they live in that world. A world of possibility. And now Leadership an Art of Possibility is being used by countless organizations to create greater potential for its employees and the company as a whole.
If there's one thing for certain and proven consistently is that positive thoughts and actions lead to positive results. And unfortunately negative thoughts and actions lead to disaster. Everyone has had interactions with fellow employees, family members and friends that left them feeling a lack of possibility. The great thing about this training video is it isn't some esoteric ideology. There are steps to take to garner this trait.
Zander enthuses that instead of just thinking these thoughts that we say them out loud. Part of living in the world of possibility is speaking it. It gives managers great power when they can state that when they work hard they'll get a big client and when they get this big client we'll advertise more and that will bring in more business. When a manager states we lost this account so we won't be able to advertise so we'll have to make cuts and of course these cuts will leads to less business coming in, this is the negative cycle.
So the power of Benjamin Zander The Art of Possibility program resides in employees and leaders using the language of possibility with one another to contribute not just to their own positive circle but to positively infect those around them. When that occurs the office and the world becomes a better place.
Jim Case Carlton's Training Solutions has brought Benjamin Zander The Art of Possibility program to its clients to change the way they feel about their work and one another. The reason it has been so embraced by employees is the power of this program goes beyond the office. To view Benjamin Zander The Art of Possibility or know more about this organization, click on the site Jim Case Carlton's Training Solutions.