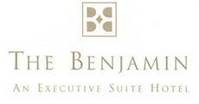 The Sleep Retreat is designed to promote complete relaxation and rest
New York, NY (Vocus) February 12, 2009
Whatever the cause of a sleepless night - jet-lag, a new baby, a plummeting portfolio - the result is a decline in productivity that, according to the National Sleep Foundation, costs companies more than $100 billion annually in reduced productivity. Based on the startling statistic, The Benjamin hotel, renowned for its Sleep Concierge and perfect night's sleep guarantee, chose to team with the NSF to introduce "The Sleep Retreat," an intensive two-night respite designed to teach guests the art of sleep.
Available March 1 through December 31, 2009, the new package kicks off during National Sleep Awareness Week, March 1 - 8, 2009 and features suite accommodations; a consultation with the hotel's renowned Sleep Concierge; nightly turndown service with a sleep-inducing bedtime snack; luxury "dream dictionary;" and a National Sleep Foundation's "Guide to Sleeping Well" kit featuring an eye mask, bath salts, a soothing CD and copy of A Good Night's Sleep. In addition, sleep-seeking guests will receive a 20% discount on sleep-inducing spa treatments and a 20% discount on a take-home pillow from the hotel's 12-choice pillow menu. Rates for the two-night Sleep Retreat start from $558.
"The Sleep Retreat is designed to promote complete relaxation and rest," said Andrew Labetti, general manager of The Benjamin. "Guests will learn tips and techniques tested by sleep industry experts and experience other sleep-inducing activities, such as learning about the link between diet, exercise and sleep, dream interpretation, and more. Whether you simply need to catch up on lost sleep or struggle with insomnia, this package will help restore balance. The Benjamin has built a reputation for providing a luxurious haven in the heart of Manhattan and we stand by this reputation with a sleep guarantee that is unmatched in the industry."
The Benjamin's widely acclaimed Sleep Program introduces a range of services and amenities to promote a restful, rejuvenating night's sleep. In addition to the sleep guarantee, the hotel features a 12-choice pillow menu and The Benjamin Bed, a Serta® mattress created exclusively for The Benjamin, with specially engineered convoluted foam cushioning and layers of fibers quilted to the mattress for a luxurious surface feel. The custom-designed Benjamin Bed is covered with 100% Egyptian cotton 400-plus thread count sheets by Anichini and a down-filled comforter with a luxurious duvet cover. Aromatherapy bathroom amenities help guests relax and prepare for bed. In addition to the luxurious sleep amenities, The Benjamin's windows are double-glazed with argon gas between the panes to help keep rooms quiet and restful.
To ensure that guests receive a perfect night's sleep, the hotel employs a full-time Sleep Concierge who offers guests advice on pillow selection and other sleep-related issues. The Sleep Concierge can also arrange a relaxing massage at the hotel's Wellness Spa; order a signature bedtime snack of warm milk and cookies or other sleep-inducing room service choices; or arrange the loan of a bedside white noise machine that electronically drowns out any stray background noise.
National Sleep Awareness Week takes place March 1 - 8, 2009, and is a public education, information and awareness campaign coinciding with the return of Daylight Saving Time, the annual "springing forward" of clocks that can throw off the body's sleep routine.
The Benjamin, located in the heart of midtown Manhattan at the corner of Lexington Avenue and 50th Street, provides an experience of true luxury and supreme comfort in an intimate, boutique-style setting. Classically elegant accommodations, world-class amenities, premier technology and seamless, superlative service are the hallmarks of The Benjamin. Known for its comprehensive sleep program, The Benjamin features the industry's first and only Sleep Concierge, a 12-choice pillow menu and custom Benjamin Bed. The Benjamin brand is operated by DHG (Denihan Hospitality Group), a privately-owned company with more than 40 years of hospitality management expertise. The Benjamin is a proud member of a worldwide alliance of hotels including Joie De Vivre in the United States, Rotana Hotels in the Middle East and First Hotels in Scandinavia. For more information, visit http://www.thebenjamin.com or call 1-888-4-BENJAMIN.
# # #