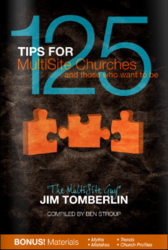 MultiSite is about increasing the impact of the church in an organic way.
Nashville, TN (PRWEB) September 20, 2011
A recent study by Outreach Magazine shows that 90% of multisite churches succeed. Ben Stroup (http://www.benstroup.com) and Jim Tomberlin (http://www.multisitesolutions.com) understand the growing trend of expanding church outreach, not through bigger buildings, but through multiple campuses. And that is why they created the free resource, 125 Tips for MultiSite Churches, for current multisite pastors and those looking to plant their first campus. The ebook is a strategic handbook outlining everything from the biblical support for multisite plants, to selecting the right campus pastor, and even sermon delivery techniques.
"MultiSite is about increasing the impact of the church in an organic way," said Ben Stroup, writer and founder of Benstroup.com. "Jim is leading the pack in multisite, in terms of strategy and implementation, but it's still a fairly new concept for the church. We created this ebook to make multisite more attainable and less intimidating to the average pastor," Stroup added.
With multisite churches now outnumbering megachurches, the ebook is a relevant tool for pastors looking to understand the risks and rewards of multiple campuses. Whether the campus is a fresh plant or a church merger, the ebook uses proven examples from some of the country's top multisite churches, including Lifechurch.tv and Willow Creek, to prepare the reader for what's ahead.
"The multisite movement began as a band-aid for megachurches who found themselves out of room," said Tomberlin, creator of MultiSiteSolutions.com. "It evolved into a growth strategy for healthy churches of all sizes, and is becoming a revitalization strategy for stable, but stuck churches. The overwhelming reason churches multisite is to reach and serve more people and extend the impact of their church," he added.
To learn more about "125 Tips for MultiSite Churches" and other ebooks produced by Ben Stroup, visit http://www.benstroup.com.
About Benstroup.com
Ben Stroup is a ghostwriter, blogger, and strategic consultant who helps individuals and organizations navigate the content matrix to achieve maximum impact through content strategy and marketing. He is an advocate for creating compelling content in a post-paragraph world and believes meaningful conversations are the most prized and coveted assets of one-person consulting firms, international charitable organizations, and multibillion dollar enterprises. Ben, his wife, Brooke, and their two sons, Carter and Caden, live in the Nashville, Tennessee area.
###