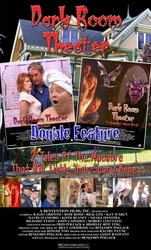 Hollywood, CA (PRWEB) August 19, 2009
Benvention Films, Inc is pleased to announce Director Benjamin Pollack took home the Best Director win for his comedy/ horror series DARK ROOM THEATER, at ITVFest on August 6, 2009. DARK ROOM THEATER is the debut production of Benvention Films and represents Benjamin Pollack's first foray into directing feature films and TV series.
DARK ROOM THEATER will screen at a number of other festivals through out the fall including Rome International Film Festival in Rome, GA; FirstGlance Philadelphia Film Festival in Philadelphia, PA; and ShockerFest International Film Festival in Modesto, CA. Dark Room Theater is nominated across several categories at these festivals.
Benjamin Pollack wrote, produced and directed 10 one-hour radio theater plays in college, which he called, "Dark Room Theater." Benjamin decided to recreate DARK ROOM THEATER for the TV audience to offer a fresh sci-fi comedy/horror series that combined broad live-action and animated qualities to make what he calls, Live Action Animation. "I grew up on Bugs Bunny, Twilight Zone and Scooby Doo and wanted to find a way to combine all three. That's what I've done with Dark Room Theater. There's no other show presenting the horror/comedy format that can make the whole family giggle with chills. Above all, I wanted to develop a show that focuses on well-crafted stories, great acting, and lots of comedy. I've been thrilled by the accolades and festival response to Dark Room Theater so far," says Benjamin Pollack.
DARK ROOM THEATER is an anthology series in the vein of THE TWILIGHT ZONE, about ordinary people who find themselves in extraordinary, usually supernatural, situations, using both ironic and comic twists. DARK ROOM THEATER stars Keith Blaney (Comedy Central's SIT N' SPIN at Hudson Theater), John Capodice (ACE VENTURA: PET DETECTIVE, INDEPENDENCE DAY), Robert Costanzo (TOTAL RECALL, HONEYMOON IN VEGAS), Rick Cox , Nicole Feenstra, Kaleo Griffith, Rose Rossi, David Stanford and Richard Tyson (THERE'S SOMETHING ABOUT MARY, KINDERGARTEN COP). DARK ROOM THEATER's score was written and performed by Billy Goodrum (THERE'S SOMETHING ABOUT MARY, STUCK ON YOU, ME, MYSELF AND IRENE; HEARTBREAK KID). Each episode of DARK ROOM THEATER is hosted by an animated character, Dr. Brainly, a brain that lives in a glass beaker from an experiment gone wrong.
About Benjamin Pollack and Benvention Films
Writer/Director Benjamin Pollack is an alumnus of American Film Institute (AFI), whose credits include editor of feature film PLAYED (Executive Produced by John Daly--TERMINATOR, LAST EMPEROR, PLATOON) and Associate Producer / Editor for the feature film, THE GARAGE which garnered over 50 festival awards and nominations. Benvention Films, Inc. is Benjamin's privately held production company with the ability to finance, produce and execute film and digital entertainment products. The company is located in Studio City, CA. In addition to DARK ROOM THEATER, Benvention Films, Inc. has added three new projects to its slate for 2010. DEAD AFTER TOMORROW, a thriller/mystery, BLUE SUIT ASSASSINS, a buddy comedy, and FLEOSOURUS, a comedy/scifi romp. For more information, please visit http://benventionfilms.com
###