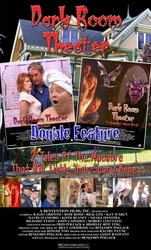 Los Angeles, CA (PRWEB) September 25, 2009
Benvention Films, Inc is pleased to announce that two of writer / director Benjamin Pollack's projects: the film, DARK ROOM THEATER: Love You To Death, and the feature screenplay, DEAD AFTER TOMORROW, will be competing in the 9th annual Shriekfest, the Los Angeles Horror/Sci-Fi Festival. DARK ROOM THEATER will screen at Raleigh Studios on October 3, 2009 at 5pm.
DARK ROOM THEATER is a comedy/horror anthology series in the vein of Twilight Zone with a healthy injection of laughs. DEAD AFTER TOMORROW, the feature screenplay, is a mystery/thriller about a young cop, dying of a terminal illness, who is seduced by the woman of his dreams into the nightmare of his life.
Writer/ Director Benjamin Pollack, who was recently featured on KNBC News with Cary Berglund, won Best Director for DARK ROOM THEATER at the Los Angeles Independent Television Festival (ITVFest). The film has recently screened at NewFilmmakers in Los Angeles, as well as the Rome International Film Festival in Rome, GA where it was also nominated for Best Narrative Feature. DARK ROOM THEATER will screen at several other festivals throughout the fall including, FirstGlance Philadelphia Film Festival in Philadelphia, PA, and ShockerFest International Film Festival in Modesto, CA, where it has been nominated across several categories. A special Halloween screening will also take place in October, at the Comedy Central Stage at the Hudson in Hollywood, CA. The trailer for DARK ROOM THEATER can be found on the iTunes Movie Trailers section of apple.com. http://www.apple.com/trailers/independent/darkroomtheater
About Benjamin Pollack and Benvention Films
Writer/Director Benjamin Pollack is an alumnus of American Film Institute (AFI), whose credits include editor of feature film PLAYED (Executive Produced by John Daly--TERMINATOR, LAST EMPEROR, PLATOON) and Associate Producer / Editor for the feature film, THE GARAGE which won over 50 festival awards and nominations. Benvention Films, Inc. is a privately held production company with the ability to finance, produce and execute digital entertainment products. The company is located in Studio City, CA. In addition to DARK ROOM THEATER, Benvention Films, Inc. has added three new projects to its slate for 2010. DEAD AFTER TOMORROW, a thriller/mystery and finalist at the upcoming 2009 Shriekfest in Los Angeles, BLUE SUIT ASSASSINS, a buddy comedy, and FLEOSOURUS, a comedy/sci-fi romp. For more information, please visit http://benventionfilms.com
ABOUT SHRIEKFEST
Shriekfest is an international festival and screenplay competition dedicated to the horror/ thriller/ sci-fi/ fantasy genres. The festival showcases some of the top burgeoning filmmakers and screenwriters in these genres, giving them a platform to get the recognition they deserve. Shriekfest proactively helps the filmmakers and screenwriters by promoting their work to industry heavyweights and fans alike. For more information please visit: http://www.shriekfest.com/
# # #