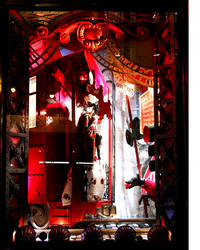 "We are in the surprise business," said David Hoey, Bergdorf Goodman Senior Director of Visual Presentation and Window Design. "This job is part architect and part cake decorator."
New York, NY (PRWEB) November 23, 2010
New York loves a spectacle, and each holiday season one of the best in town is the elaborate windows at Bergdorf Goodman. Known for their artistry, detail and sly visual wit, the holiday windows attract thousands of New Yorkers and visitors every year. The 2010 windows, entitled "Wish You Were Here," take their inspiration from fantasy travel to far-flung places… and some unusual ways of getting there. "We are in the surprise business," said David Hoey, Bergdorf Goodman Senior Director of Visual Presentation and Window Design, advising viewers to anticipate an array of wild mash-ups of unexpected arrivals and departures, each with visual influences as diverse as Roman mythology, 1940s Hollywood musicals, the original Penn Station, and the very first science fiction film. "This job is part architect and part cake decorator."
Each of the five main Fifth Avenue windows represents a different destination and a special method of conveyance:
Reminiscent of a patinated Vaudeville stage set, "The Scenic Route" features an antique caboose pulling out of the station. A hand painted moving backdrop animates the scene while a mannequin dressed in an Oscar de la Renta gown makes her exit stage right.
"Full Speed Ahead" takes viewers inside a ship rolling gently on a sea voyage. Amidst a lavish collection of nautical antiques, a mannequin clad in a one-of-a-kind striped outfit by designer Naeem Khan keeps company with an international cadre of miniature antique sailors...
"Day Tripping" invites viewers to come along for a spur-of-the-moment jaunt to the moon. The glittery lunar dreamscape is inspired by the 1902 silent film, "Le Voyage Dans La Lune" by Georges Melies, plus a generous dose of mid-century touches a la Flash Gordon and an aquatic nod to Jules Verne.
In "A Guided Tour," a gigantic gold and ivory wooden Pegasus set against a hand painted medieval-style mural illustrates an especially glamorous method of air travel.
In the final window a Victorian-style flying machine has been inventively concocted out of bicycle and carriage parts and components from a vintage hot air balloon. Attended by a team of uniformed simian grease monkeys, it's clearly "Ready For Takeoff."
And it's not just inside the Bergdorf Goodman windows where old-world inspiration mingles with emerging technology and a nod to the future. This year, for the first time, QR codes on several windows enable shoppers and passersby to view an online Holiday Gift Finder and a video depicting the making of the displays by scanning the codes with their handheld digital device. Produced entirely in-house, the 2:30 minute behind-the scenes video features the song "Follow Me" by 17-year old emerging Sony artist Audrianna Cole.
Bergdorf Goodman partnered with Polyvore, a creative-based social networking community, to host a Holiday Windows Challenge inviting members to upload their own window designs with fantasy destinations in mind. The winner, CJF Design, was selected from more than 2,800 entries and received a prize including a private guided tour of the holiday windows and a $2,500 Bergdorf Goodman gift card.
This holiday season also marks the debut of the new limited-edition Assouline book, Windows at Bergdorf Goodman, which features a decade of Bergdorf's legendary windows in a covetable handmade collectors' edition with slipcase. A surprise performance by Prince Poppycock delighted the more than 600 guests who gathered for cocktails at Bergdorf on November 18 to celebrate the book.
The Bergdorf Goodman holiday windows will remain on display through January 3, 2011 and can be enjoyed by everyone on 5th/58th, the Bergdorf Goodman blog, and on Facebook. This also is covered by our lively twitter account, @bergdorfs, and through the hashtag #BGWindows.
About Bergdorf Goodman: Bergdorf Goodman, founded by master tailors Edwin Goodman and Herman Bergdorf, is located on the corner of New York's Fifth Avenue and 58th Street, the former site of the Cornelius Vanderbilt mansion. The store has been a one-of-a-kind destination for exclusive fashion and unparalleled service since 1901.
###