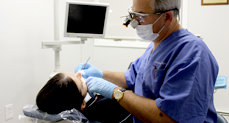 Cliffside Park, New Jersey (PRWEB) June 11, 2013
Distinguished member of the American Dentist Association, active contributor of the International Association for Orthodontics, highly appreciated professor at the New York University, and Bergen County NJ's leading general dentist, Dr. Rubinov has recently received an invitation to join the ranks of an exclusive worldwide medical organization, "The Leading Physicians of the World".
The invitation comes as an acknowledgement for his 38 years of practice as well as his instrumental innovations in the field of orthodontics. In 2012, Dr. Leonid Rubinov has made it in the top 10 dentists in New Jersey, an award offered annually by a highly appreciated NJ publication, Health Magazine. It is important to note that the nominalization for the top 10 dentists in NJ is based on the opinions of the other dentists and peers.
Although Dr. Rubinov, DDS, has a rich academic and busy schedule with the various national and international organizations where he is currently an active member with, he prefers the hands-on part of his profession. Currently, he is practicing general and cosmetic dentistry as well as orthodontics for children and adults in a private clinic in Cliffside Park, New Jersey.
Due to his dedication to providing quality dentistry and orthodontics services, including full mouth rehabilitation and treatments for the Temporomandibular Joint syndrome, as well as his research and innovation in prerestorative orthodontics, Dr. Rubinov has received another important distinction, the invitation to become a member of the world's most exclusive medical organization.
"The Leading Physicians of the World" publication is an influential organization renowned within the medical community for its high standards and strict criteria of selection. To be more precise, the research department of the esteemed group carefully analyzes the background and experience of the physicians and only nominates the top 1% - 2% of the very best experts in each medical specialty.
The esteemed journal is currently the biggest international medical organization and represents top doctors in over 100 distinct medical specialties from all across the world. However, in order for a physician to become a member, he needs to receive an exclusive invitation, which is typically granted to those who undergo a laborious and stringent evaluation.
The assessment of expert physician is obtained after a minutely examination of data collected from various sources, including contributions in the medical and research field, affiliations, current education as well as a nominalization for the publication's active members.