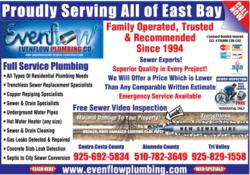 you don't know who you are letting around your home and family
Berkeley, California (PRWEB) January 28, 2012
Berkeley sewer repair contractors at Evenflow Plumbing of Berkeley California have seen an increase in the number of people posing as licensed contractors providing bids on Berkeley sewer repair. According to Gary Dimodana, Owner of Evenflow Plumbing, he has run across more situations recently where unlicensed contractors had provided bids to his customers. "In most cases these people will provide a valid license number to the consumer. The problem is that the license isn't theirs," says Gary.
With recent sting operations the CSLB or California State License in cooperation with other government agencies caught 111 unlicensed contractors in October of 2010 in an operation that lasted only 2 days according to their website, CSLB news release. Among the people caught were criminals including a convicted sex offender. Recently in Amador county authorities caught 10 unlicensed contractors in 1 day bidding one 1 house. "Many of these unlicensed contractors don't have a license because of felony convictions or illegal business practices. We see them bidding on Berkeley sewer repair all the time," says Gary. According to the California State License Board the best way for consumers to protect themselves is to do their homework before hiring a contractor for a sewer replacement or any other job. Here are 5 things consumers can do avoid being victims of contractor fraud:
1. Ask for a license number. This is a simple request. If the person soliciting business from you refuses to provide a valid license number this may be an indication that they are unlicensed
.
2. Check the status of the license number on the California State License Board Website. On the home page you will find an easy to locate link to check the status of a license. During this process you can identify the name of the license holder.
3. Ask for the hard copy of the license to be presented with the bid. All contractors are issued a card to be carried with them to present to customers.
4. Check the driver license to make sure the signatures match. The signature on the pocket card should match the signature on the photo I.D. This step is particularly important to avoid being handed a valid license that does not belong to the person presenting it to the consumer.
5. Check with the Contractors State License Board to make sure the company has worker's compensation insurance. If they do not and you hire them, you could be held responsible as a 3rd party at fault in an injury related lawsuit.
Berkeley sewer repair or replacement bids exceeding $500.00 must be submitted by a licensed plumbing and sewer contractor. "The biggest problem with unlicensed contractors is that you don't know who you are letting around your home and family and you don't know the quality of the work they will do," says Gary. "The other thing is permits. Make sure the job is done with permits to avoid major problems later. Unlicensed contractors can't pull permits."
Every year thousands of homeowners are the victims of contractor fraud in the United States. If you are currently seeking a bid for Berkeley sewer repair make sure to do your homework. To learn more about Evenflow Plumbing visit their website, watch their videos, read their press releases or see their many positive online Berkeley sewer repair reviews from trusted consumer review sites like Google, Yahoo and Yelp, they are also Oakland plumbers.
Evenflow Plumbing Co
360 Grand Ave, Suite 155, Oakland, CA 94610
(510) 562-1363
###