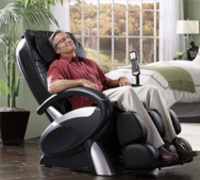 Lakewood, CO (PRWEB) July 27, 2009
TheaterSeatStore has introduced a full range of Berkline massage chair for sale on its website - http://www.theaterseatstore.com. Initially, only Berkline's Feel Good Massage Chair range will be sold but additional manufacturers and ranges will be added.
"The Feel Good Massage Chair range includes all the basic features that massage chairs have to reduce stress levels and promote good health, and that is why we decided to launch our entry into selling massage chairs by selling this range", commented Peter Goldstein, Vice President of Sales at Theaterseatstore. These massage chairs will be sold via a quick ship program which means customers can expect delivery within 10-15 business days.
Berkline is primarily known as the market leader in home theater furniture and is taking its excellence in this field to massage chairs - a natural progression from recliners. Berkline are the market specialists in home theater and recliners and many of the components and technology used for these products form an integral part in massage chairs.
Basic features include shiatsu, kneading, clapping, tapping, rolling and vibrating massage movements with a program timer for easy self therapy. The armrests and footrest are adjustable for a user's ultimate comfort regardless of the user's height. The seats are easy to operate using a simple remote control. Massage sessions can be pre-programmed. The number of pre-programmed sessions and level of massage movements varies based on the style of the seat. Certain models also include a footrest that rotates 180 degrees to massage calve muscles and the bottom of one's feet.
Berkline's Feel Good Massage Chairs includes six different models from Style 16017 through Style 16022. The Style 16017 includes all the basic features of massage chairs and a clean contemporary style, while Style 16022 provides the ultimate relaxation chair with head-to-toe Shiatsu, Swedish and other massage techniques. Additional features in these massage chairs include power recline, adjustable rollers and calve massage actions. Berkline assures quality by including a warranty of 1 year for parts and labor, and 2 years for parts service.
About TheaterSeatStore
TheaterSeatStore is the market leading retailer of home theater furniture products, massage chairs, and sofa and sectional sets. The company offers a wide range of products and services designed to enhance and decorate a dedicated home theater environment. TheaterSeatStore is a member of both the National Home Furnishing Association and Western Home Furnishings Association.
###