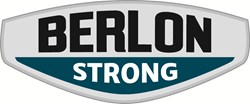 We want Berlon to be known as the best option.
Hustisford, WI (PRWEB) August 06, 2013
As Mike Ebben was reviewing every aspect of the skid steer attachment company he recently joined as president, one theme kept recurring: strong.
"This company has a lot going for it – across the board," said Ebben, who was named president of Berlon Industries when the manufacturing company was acquired by a private equity firm last fall. "We have a strong team of people, strong relationships with our dealers, strong suppliers and products engineered for strength."
That message will now be branded in the new "Berlon Strong" approach, according to Ebben. It also is conveyed in a powerful new website the company recently launched at http://www.berlon.com/.
Berlon Strong is the company's commitment to strength in engineering and design, manufacturing quality, business operations, personnel, customer service, dealer support and community support, Ebben said.
"We know there are many options in the market for attachments for skid steers, tractor loaders, compact utility tractors, wheel loaders and telehandlers," Ebben said. "We want Berlon to be well known as the best option; we believe the Berlon Strong approach will keep us focused on that mission, and because of that, our dealers, other partners and end users will all benefit."
The Berlon Strong approach is presented in the company's new logo and conveyed through other company materials and marketing campaigns.
New Website Details Products, Supports Skid Steer Attachment Dealers
The company's new website, at http://www.berlon.com, also emphasizes Berlon Strong, and was developed to make it easy for dealers and end users to quickly and fully get the information they need about Berlon buckets, attachments and accessories for skid steers, loaders and compact tractors.
"We wanted a website that makes it as easy as possible for people to get information about Berlon solutions to their specific bucket and attachment needs," Ebben said. "Our new site does that."
The new website has an easy-to-use dealer locator, so end users can quickly determine the dealers closest to them.
Company Adds Jobs, Machinery to Meet Rising Demand for Attachments
Berlon has seen a strong, positive response to its market outreach, Ebben said, citing an increase in sales of skid steer attachments over the past several months. The company has added jobs and has enhanced operating efficiency to meet the rising demand without sacrificing delivery times, he added.
Installation of a new CNC plasma cutting machine at its Juneau, Wis., facility has further enhanced productivity and fabricating capabilities. The cutter is a Messer EdgeMax with a down-draft table twice the size of Berlon's previous cutter. With cutting speeds of 1,200 inches per minute, the plasma cutter will increase productivity and help Berlon meet rising demand and maintain its quick delivery to dealers.
The Messer plasma cutter purchase was the largest capital improvement made by the new ownership group since the company was acquired last November.
Other facility and operating improvements have been made, as well.
"We're investing in our people and our facilities because we know we have an excellent lineup of skid steer attachments and accessories that farmers, construction companies, landscapers and others value," Ebben said. "We also realize we reach only a portion of the overall market, so there is tremendous opportunity for growth."
New Attachments and Buckets Developed
Its market outreach also prompted Berlon to recently release two new skid steer attachments for hay bale handling, and a high-capacity bucket for snow removal.
"We're responding to market demands with innovative products," Ebben said. "That's helping the end user who values these buckets and other attachments, and it helps our dealers and the communities where we operate, because when our business is stronger, our employees benefit and we're better able to support activities in our communities."
Berlon buckets and attachments are primarily sold through a dealer network in the Midwest but also are sold throughout the U.S. via online attachment and equipment merchants. Dealers value Berlon's quality and product delivery reliability, allowing them to get products to end users more quickly, Ebben said.
American-made Berlon buckets and attachments are used in agricultural, landscaping, snow removal, construction, commercial, municipal, road contractor and landowner markets.
***
Berlon designs and manufactures highly durable buckets and work attachments for skid steers, tractor loaders, compact utility tractors, wheel loaders and telehandlers. The company is known for offering premium products without a premium price tag, and for its extreme reliability in delivery commitments to its dealers. Berlon traces its roots to 1943 and, through a recent acquisition, remains privately held. Berlon has manufacturing and assembly plants in Hustisford and Juneau, Wisconsin, just northwest of Milwaukee. The company is on the web at http://www.berlon.com/.