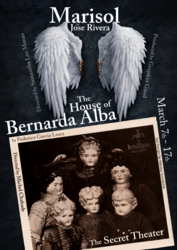 Bernarda like you have never seen before, standing at 10 feet tall, she hypnotizes the audience with her "sweet" curses. A must see!
New York City, NY (PRWEB) February 13, 2013
Bedlam Ensemble is pleased to announce their first shows of 2013. A double bill featuring Federico Garcia Lorca's The House of Bernarda Alba and Jose Rivera's Marisol.
These two prolific Spanish playwrights are separated by decades but share a love of culture, community, and religion that is incredibly pertinent to today's world.
The two shows share universal themes that inform our world today. Marisol's post-apocalyptic setting is not so different from post 9/11 America, with people's ideas and expectations of increased security, military presence, and their own crumbling sanity. Both Rivera and Lorca ask us, What can people do to change the direction of a world dominated by powers they can't control and saturated with madness? How do we take part in our own undoing and how can we right our course? The answers their characters find may surprise you.
The House of Bernarda Alba, in a surprising and unexpected new English translation by Michel Chahade, exposes different sides of the original text, revealing that it is secretly full of comedy. The company makes use of magical realism, commedia dell'arte and Michael Chekhov's technique to reinforce the absurdist abuse of power presented by Lorca.
Marisol is directed by Samantha Lee Manas (Sweet Prince), and produced by Graydon Gund (The Fig Leaves are Falling) with lighting design by Lauren Bremen (Flight18). The cast of Marisol includes Stephanie Alvarez (Sesame Street) as Marisol, Elise Baker (Border Sweet Border) as June, John E. Sims (Measure for Measure) as Lenny and others, Anna Stefanic (Flight18) as the Woman in Fur, Samantha Jane Williams (The Big C) as the Angel, and George Pafitis (Border Sweet Border) as the Man with Ice Cream.
The House of Bernarda Alba is directed and produced by Bedlam's Executive director Michel Chahade (Border Sweet Border), with assistant director Olya Kenney (Boogle Grace), set design by Nikolai Sviridchik (Billy Bob Boils the Sea), Choreography by Olga Belomestnova (To Kill Charlotte) and lighting design by Bremen. The cast features Catherine LeClaire (Bronte) as Bernarda Alba, Michael Donaldson (Plague Town) as Angustias, Yael Barel (The House of Curiosities) as Magdalena, Renee Yakemchuk (3xBeckett) as Amelia, Aimi Negbenebor Sela(Flesh-Light Stories) as Martirio, Olga Belomestnova as Adela (To Kill Charlotte), Genia Starseva (Grandpa was a Bachelor!) as the servant, Jeremy Rafal (Alice) as La Poncia, and Meeni Naqvi (The D Word) as Prudencia, Beggar Woman and Maria Josefa.
For tickets: $18 advance, $20(general)$25(premium) at the door.
http://www.bedlamensemble.com – Press- Free of Charge
For Press Comps and other inquires contact: Graydon Gund 617-620-6658 Graydon(at)bedlamensemble(dot)com