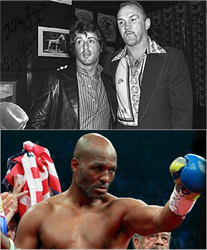 I believe by showing the key points of the '10 Point Strategic Boxing System' we will provide knowledge on how to execute a fight plan to achieve the highest level of performance.
Miami, FL (PRWEB) June 21, 2013
Bernard Hopkins and Chuck Wepner are the main subjects of the latest edition of Art of Boxing Magazine, the premiere boxing source for the fighter and the fan. The iPad publication's founder and boxing expert, Vinny Furlani, announced that the magazine brings remarkable highlights of the two fighters' boxing careers, as well as their impact as public figures.
'The Celebrity Corner' is the section where Bernard Hopkins' achievements are being fully described. The article states that Hopkins became the oldest boxer to win a major title on March 9, 2013, scoring a 12-round unanimous decision over Tavoris Cloud to claim the IBF light heavyweight championship. He is also referenced as the first middleweight fighter to have held all four of what are considered the major belts when he won the World Boxing Organization's championship from Oscar De La Hoya.
Having defended a world middleweight title a record 20 times before losing the title in 2005, he is considered one of the greatest middleweight champions of all time. The Ring ranked him No. 3 on their list of the '10 best middleweight title holders of the last 50 years'.
The 'Where Are They Now' section is where Chuck Wepner is being presented as Sylvester Stallone's inspiration for the movie "Rocky" in creating the character Rocky Balboa. The published story says a young, impressionable and unknown Philadelphia resident - Sylvester Stallone - saw the Chuck Wepner vs. Muhammad Ali fight in 1975, and was instantly motivated to write the "Rocky" screenplay. The project turned out to be a blockbuster movie, one of the 20th Century's greatest box office hits. Sylvester Stallone himself later confirmed Wepner as the inspiration on an episode of Bravo TV's Inside the Actor's Studio.
The article delves into a rousing Wepner vs. Ali fight, where a tough journeyman boxer [Wepner] went 15 rounds with a world heavyweight champion [Ali]. In the ninth round, Wepner knocked down Ali. But in the remaining rounds, Ali decisively out boxed Wepner, opened up cuts above both his eyes, and broke his nose. Wepner was far behind on the scorecards when Ali knocked him down with 19 seconds left in the 15th round. The referee counted to nine before calling a technical knockout.
The current edition of Art of Boxing Magazine also brings to readers sections such as 'Vinny's Corner', which each month describes a new aspect of the '10-Point Strategic Boxing System', created by Vinny Furlani. In addition, nutrition information specific to fighters, entertaining news on historic boxing greats, a boxing calendar, boxing ranks and biographical data are also presented.
"I hope to provide plenty of insight into the science and form of boxing, necessary to transform good fighters into great fighters. I believe by showing the key points of the '10 Point Strategic Boxing System' we will provide knowledge on how to execute a fight plan to achieve the highest level of performance. And by sharing facts, news and historical information, readers are educated on the many facets of the sport," declared Furlani.
Art of Boxing Magazine is currently offering readers an overview of the entire 10-point system, concisely compiled in a white paper. To gain access, interested fans, fighters and coaches are encouraged to text the word 'Boxing' to 22828 or sign up using a valid email address through Art of Boxing Magazine's website at http://www.ArtofBoxingMag.com.
About Vinny Furlani
Vinny has been exposed to boxing for close to 30 years, being active in the sport for 15 of those years (either fighting or coaching). Starting his fighting training at 18 years old, Vinny was coached by former Olympic Gold Medalist and 2-time Heavy Weight Champion, Floyd Patterson, a follower of the legendary Cus D'Amato model, which has been proven through the success achieved by Mike Tyson.
Vinny Furlani debuted on the National stage in 1987. In 1988, he joined the USA International Amateur Boxing Team and became a professional fighter later that year, fighting an undercard match during teammate Tracy Harris-Patterson's main event. After a brief professional career as a fighter, he moved on to coaching, participating in New York's Golden Gloves, and assisting in Patterson's corner in several other matches.
Art of Boxing Magazine is thankful to the following boxing gyms for their valuable support: Church Street Boxing Gym in Brooklyn, NY; LA Boxing in Hoboken, NJ; LA Boxing in Paramus, NJ; Bulldog Boxing in Jacksonville, FL; TKO Boxing Gym in the UK; DG Boxing in Long Beach, CA; Impact Fitness & Boxing in Scottsdale, AZ; La Habra Boxing Club in La Habra, CA; Garden State School of Boxing in Paterson, NJ; and Joe Grier Boxing Academy in Paterson, NJ.
More information is available through http://www.ArtofBoxingMag.com.