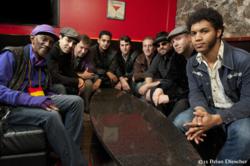 Bernie Worrell (of Parliament Funkadelic) announces 2 new show dates in California January 18th and 19th: The Mint in Los Angeles and Winston's in San Diego, CA.
Los Angeles, CA and San Diego, CA (PRWEB) January 15, 2013
Bernie Worrell (of Original Parliament-Funkadelic / Talking Heads) announces 2 new show dates in California January 18th and 19th: The Mint in Los Angeles and Winston's in San Diego, CA.
Bernie Worrell Orchestra with NVO
Fri, January 18, 2013 9:00 PM (Doors open at 08:00 PM)
The Mint
6010 West Pivo Blvd
Los Angeles, CA 90035
http://themintla.com/index.cfm
Admission Charges- $15/$18 Ages-18+
Bernie Worrell Orchestra with Naked Funk
Saturday, January 19 2013, 8:30pm
Winston's
1921 Bacon ST.
San Diego, CA 92107
Admission charge $10 Ages 21+
Rock and Funk legend, Bernie Worrell , recently digitally released two songs, "BWO is Landing" and "Get Your Hands Off." Combing elements of everything from jazz to salsa to funk and soul, these two tracks have something to offer every music lover. Both tracks are beautifully arranged and very danceable, full of energy and are true works of musical genius from a master of many styles. These are the first tracks by Bernie's current band, Bernie Worrell Orchestra, which he co-produced with Evan Taylor.
How many artists can say they were in on the ground floor of an honest-to-Rock & Roll Hall Of Fame supergroup, while inventing a completely original and uncanny sound and, in the ensuing years, built a legendary reputation as one of the most versatile hired guns in the music business? True funkateers know the history. From the fat Minimoog bass lines of "Flash Light" and "One Nation Under A Groove" to the percussive piano runs of "Chocolate City" and "Give Up the Funk," Bernie Worrell is synonymous with the legacy of Parliament-Funkadelic; in fact, he's one of the originators of the psychedelic funk sound, having written and co-produced the lion's share of the music going back to Funkadelic's formative years, with an eclectic ear for everything from Chopin to the Chi-Lites.
These days the terms "living legend" or "funk icon" really don't come close to doing Worrell justice. "Funk iconoclast" is probably more apt, considering the breadth of his contributions to seminal albums outside the P-Funk canon, including Talking Heads' Stop Making Sense and Public Image Ltd's Album, to name two of the more monolithic examples. Keith Richards, Yoko Ono, Bootsy Collins, Jack Bruce, Ginger Baker, Mos Def, Sly & Robbie, Deee-Lite, Bill Laswell and many more have recruited Bernie into the studio and on tour—all for his versatility, vision and feverish creativity whenever he gets his hands on a keyboard.
For interviews or more information on this event, please contact Melissa Zeigler: melissa(at)powderfingerpromo(dot)com or 1 800 356 1155 X4233