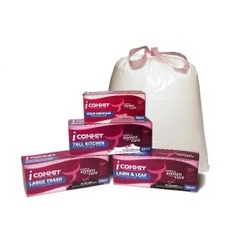 We at Berry Plastics are in a position to make a significant difference for charities that are working hard to make a difference in the world
Evansville, Ind. (PRWEB) February 20, 2008
Berry Plastics is introducing the i Commit(TM) brand: a unique, stand-alone product line that will contribute a portion of every sale to charity. The first i Commit product is trash bags, benefiting Susan G. Komen for the Cure (link to: cms.komen.org/komen/index.htm), the world's largest breast cancer organization, and will incorporate Komen's signature pink color into the product.
"With i Commit, one of the most commonly used consumer items - trash bags - has the potential to make a dramatic difference in the fight against breast cancer," said Ira Boots, chairman and CEO, Berry Plastics Corp. "We couldn't ask for a more worthy first partner for the i Commit program than Susan G. Komen for the Cure."
From February 1 through July 31, 2008, Berry Plastics will donate 25 cents for each specially marked package of i Commit trash bags sold. The minimum guaranteed donation is $100,000, and there is no maximum cap.
"We at Berry Plastics are in a position to make a significant difference for charities that are working hard to make a difference in the world," Boots said. "Our philosophy is to be engaged in causes that our customers care about and causes that support people helping themselves."
Berry Plastics' i Commit premium trash bags will be sold in four different specially marked packages: the 13-, 30- and 39-gallon drawstring packages, and the 8-gallon twist tie package. The 30- and 39-gallon drawstring trash bags will be black with pink drawstrings, and the 13-gallon bags will be white with pink drawstrings. The 8-gallon twist tie bags will be entirely Susan G. Komen pink.
Consumers can find i Commit trash bags at grocery stores, mass merchants and other retail stores, with a suggested retail price of $3.48 to $4.99. For additional information, please visit http://www.berryplastics.com or http://www.komen.org.
"For the past 25 years, Susan G. Komen for the Cure has been on a mission to end breast cancer forever," said Katrina McGhee, vice president of marketing for Susan G. Komen for the Cure. "Cause-related marketing programs such as Berry Plastics' are an integral part of that mission, helping us reach millions of consumers with life-saving health messages, and providing funds that support breast cancer research and community outreach programs."
Janice Meissbach, vice president of retail marketing for Berry Plastics, said the company hopes millions of American consumers will take advantage of this opportunity to help others. "We invite all of our customers to join with us in the fight against breast cancer with i Commit trash bags, and in i Commit's ongoing effort to support the critical work of America's charitable organizations."
About Berry Plastics
Berry Plastics is a leading manufacturer and marketer of plastic packaging products. Berry Plastics products include open-top and closed top packaging, polyethylene-based plastic films, industrial tapes, medical specialties, packaging, heat-shrinkable coatings and specialty laminates. The company's 17,000-plus customers range from large multinational corporations to small local businesses. Based in Evansville, Ind., the company has 71 manufacturing facilities worldwide and nearly 14,000 employees. For more information, please visit http://www.berryplastics.com.
###