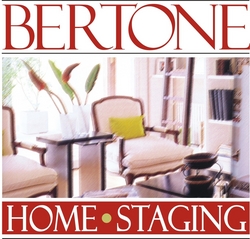 They came in and transformed my empty house into a warm and inviting home. Thanks again Bertone. You're a real lifesaver!
Miami, FL (PRWEB) January 29, 2009
Bertone Home Staging, South Florida's premier home staging company, is offering free home staging for homeowners with vacant properties in order to help them to jumpstart their home-selling efforts. In today's sour housing environment, homeowners face a number of struggles in attracting potential buyers. In addition to the financial burden of maintaining a vacant property, many home sellers are confronted with the real challenge of protecting and securing an unoccupied house.
Vandalism, squatters, insects, bad odors, and even homeowner association fines for improper maintenance are some of the issues that home sellers deal with when trying to market a vacant property. Since the 1980s, programs that include home staging with property managers have been regularly used to help combat these problems and encourage buyer interest.
Property manager 'house sitters' are qualified dwellers who temporarily move into vacant houses, maintaining the property in model home condition in order to expedite a sale. Statistically, an occupied home fairs far better on the housing market in part because the occupant is able to maintain and assure the upkeep of the property while providing enhanced security. Property managers pay a small fee to occupy the home but dramatically increase the competitiveness of a property, creating a win-win situation for all parties.
Furthermore, property managers pay for maintenance expenses, reduce risk of defacement, and make sure the property is clean and presentable with professional, model-type home furniture, all of which improve the likelihood of a home selling more quickly.
An important element of a property manager's job is to maintain a Staged home, which boosts home buying interest. And for Floridians in the Miami, Ft. Lauderdale, and West Palm Beach areas, Bertone Home Staging is offering the same time tested home staging/property manager program for the convenience and support of South Florida's struggling home sellers. The South Florida based company is offering the service free of charge for home sellers with vacant properties.
Bertone's home staging/property manager program helps homeowners sell their properties for top dollar by preparing and decorating a home before it is listed for sale. Bertone significantly improves buyers' first impressions on otherwise empty homes. Staged homes look great in print and internet advertising, attract a broader range of qualified buyers, and generally command a higher appraisal price. According to Bertone, a staged property statistically sells 50 percent faster.
Bertone's home staging with property manager program provides the vital components that give a property a competitive edge. Bertone Home Staging provides a reliable and affordable way to drastically increase the chance of a quick and profitable home sale.
"After my vacant property sat unsold for months, I finally called Bertone Home Staging," says Bertone customer Mike, from Coral Gables. "They came in and transformed my empty house into a warm and inviting home. Thanks again Bertone. You're a real lifesaver!"
About Bertone Home Staging
As a leader in the industry for over three years, Bertone is committed to providing the finest Home Staging services available today. Bertone's highly knowledgeable and experienced team of decorating, design, and staging professionals are dedicated to helping South Floridian home sellers during the ups and downs of the real estate market; always thinking of ways to help the community.
For more information, please visit http://www.freehomestaging.com.
View before and after photos on the PowerPoint presentation online now, click here.
Media contacts:
Sarah Anthony
Bertone Home Staging
305-249-3368
sarah(at)bertonehs.com
http://www.bertonehomestaging.com
Angelina Perez, Founder and CEO
Bertone Home Staging
954-839-6229
angelina(at)bertonehs.com
http://www.bertonehomestaging.com
###