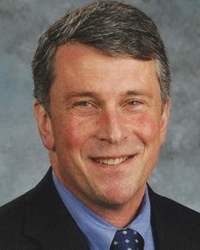 We are very excited to add Skip to our leadership team at Bertucci's
Northborough, MA (PRWEB) April 2, 2010
Bertucci's Italian Restaurant("Bertucci's") announced today that it has named Skip Weldon to the position of senior vice president of marketing.
For the past three years, Weldon was vice president of marketing at Friendly Ice Cream Corporation, where he led the development and implementation of a new brand positioning, including the introduction of a new menu and the new "I wanna go to Friendly's" ad campaign. Prior to Weldon's time at Friendly's, he was the vice president of field marketing at Dunkin' Donuts. Previously, Weldon spent almost twenty years at major Boston advertising agencies. Weldon graduated from Tufts University.
As senior vice president of marketing, Weldon will be responsible for leading and executing key marketing strategies and initiatives and will have overall responsibility for product management and the marketing calendar. He will report to David Lloyd, chief executive officer for Bertucci's.
"We are very excited to add Skip to our leadership team at Bertucci's" Lloyd said. "Skip's experience in leading a marketing team through a transformational process, as well as his background in brand development and field marketing, is a perfect fit for us as we look to build the Bertucci's brand and grow the company."
About Bertucci's:
Since 1981, Bertucci's Italian Restaurant® has served customers with genuineness and warmth. With its distinctive, flavorful Italian food and signature brick oven pizza, Bertucci's serves as a favorite Italian restaurant for many. Today, Bertucci's operates 93 locations in 10 states and the District of Columbia. In every single restaurant, Bertucci's maintains the same rigorous, high-quality standards and principles the company was founded on. Honesty and passion are still at the heart of every Bertucci's meal. Bertucci's continues to develop innovative recipes and use fresh ingredients to craft distinctively delicious Italian meals using simple, time-honored Italian recipes. For more information visit http://www.bertuccis.com and on Facebook at http://www.facebook.com/pages/Bertuccis-Italian-Restaurant/89018083259?ref=ts.
# # #