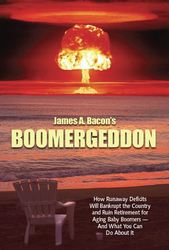 If Republicans want to transform the health care system, there has to be more to their platform than repealing Obamacare. They need to be discussing what comes next.
Richmond, VA (PRWEB) September 22, 2010
In his first speech since his appointment as head of Medicare and Medicaid, Dr. Donald Berwick gave Republicans a big opening earlier this month to seize the initiative in the health care debate -- if only they would exploit it, says "Boomergeddon" author James A. Bacon.
At a gathering of America's Health Insurance Plans Monday, Berwick made it plain that his top priority is improving the quality of America's health care system. "Berwick wants to cut costs by reducing the number of people who get sicker in hospitals due to infections or medical errors. That's something that everyone -- including Republicans -- should support," Bacon says.
In his newly published book "Boomergeddon," Bacon argues that runaway spending, slow economic growth and rising interest rates will drive the federal government into default within 15 to 20 years unless the country radically changes course. To avert calamity, the U.S. must tame out-of-control health care costs, a key driver of spending. Obamacare will not "bend the curve" of increasing costs, Bacon argues. But neither will GOP proposals.
Republicans are understandably angry at the high-handed way that the Obama administration appointed Berwick as director of Medicare and Medicaid Services without the inconvenience of congressional hearings, Bacon said. But they don't do themselves any favors by trying to portray Berwick as something he isn't: an advocate of rationing of the death-panel variety. Critics have pointed to the accolades Berwick gave the United Kingdom's National Health System in a 2008 speech as evidence of his preference for big-government solutions. While Berwick expressed admiration for the NHS, he did not cite rationing as a reason for doing so.
Republicans are missing the chance to engage in a more substantative debate over how to reform health care in America, Bacon contends. "If Republicans want to transform the health care system, there has to be more to their platform than bashing Berwick and repealing Obamacare. They need to be discussing what comes next."
In "Boomergeddon," Bacon advocates four broad, market-based reforms:
1. Get employers out of health care. Eliminate the tax break tying health insurance to employment status. Make insurance portable. Let people contract directly with insurers to buy policies that suit their needs, not the corporations' needs.
2. Promote the right kind of insurance competition. Instead of seeking short-term price discounts, insurers should steer patients to providers where they can find the best health care value (price and quality), thus driving long-term improvements to the system.
3. Create market transparency. Gather and report price and quality data for hospitals and doctors so patients can make informed consumer decisions.
4. Tear down barriers to business innovation. Repeal laws that prevent entrepreneurs and innovators from challenging the dominant players in the health care industry.
Properly designed market-based competition will spur providers to compete on the basis of productivity, efficiency and quality, Bacon maintains.
Whatever else its flaws, Obamacare departs from past bureaucratic practice of implementing short-term (and largely counterproductive) fixes in favor of bolstering the economic efficiency of the health care system and improving medical outcomes. The law puts into place a variety of tools -- measuring outcomes, benchmarking best practices, funding pilot projects for innovative delivery models, altering incentives in Medicare payments -- that in theory have the potential to drive increased productivity and improved outcomes.
Republicans have ignored these initiatives, Bacon says. "What a missed opportunity! The fact is, Obamacare is at war with itself. While the law purports to boost productivity and quality, it creates a vast bureaucracy to execute the new priorities, it has foisted into place rules that will discourage innovation in the insurance sector and, by restricting competition by physician-owned hospitals, it will augment the power of powerful hospital systems to resist the very change the law seeks to achieve."
Evidently, Berwick understands that productivity and quality cannot be imposed by bureaucratic diktat. As he said earlier this week, a "massive, top-down national project is not the way to go" -- articulating precisely the sentiments that Republicans should be expressing, Bacon says.
Why would Republicans make an enemy of Berwick before knowing what he really thinks, Bacon asks. Why, for instance, does he believe a massive, top-down reform of health care is not a good idea? What would bottom-up reform look like? Is he open to creating the conditions for value-based competition in a market economy? They might be pleasantly surprised.
###