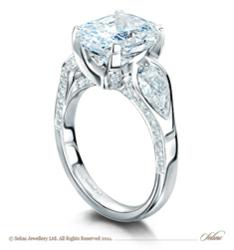 Selini was founded to produce exclusive, one-off jewels of exceptional design and the highest quality, jewels that every client could have an integral role in their creation.
(PRWEB UK) 17 June 2011
Since its inception Selini has established a renowned international reputation for the exceptional design and creation of the highest quality bespoke jewellery. The company was established by designer and goldsmith Robin Girling who combines his innovative hands-on expertise with the very latest technology to create truly exceptional jewels.
Selini take the word "bespoke" very seriously; it's at the heart of everything they do. Their new website was meticulously designed and constructed to reflect the exceptional quality of their creations. A key requirement of the website design was to display high quality examples of their very latest commissioned pieces. This has been achieved with a style and elegance befitting the company.
Each and every piece of jewellery they produce, from wedding bands and diamond engagement rings to highly complex necklaces and bracelets, is designed from scratch to maximise the unique characteristics of the piece. Selini initially create a concept for each unique jewel, then design it in close harmony with the client and finally handcraft it to perfection. This approach allows the company to offer a truly genuine bespoke design and manufacture service, right the way through from original creation to final production. The entire process is carried out in-house in their state-of-the-art workshop.
The company constantly invests in the latest technological innovations to stay at the leading edge of the very best in jewellery design and manufacturing excellence. Their workshop is one of the best equipped in the country with microscope manufacture workstations, facilities for laser welding, gold and platinum CNC milling and full parametric modelling.
Selini works exclusively with a dedicated team of third-generation Antwerp-based diamond cutters whose experience and expertise includes the crafting of some of the world's rarest and most sought after diamonds. Selini offer several exclusive diamond cuts, including the Lucere cut and the Korloff cut, to give each jewel that extra assurance of quality and originality that sets it apart from all others.
The quality and attention to detail of their new website is further testament to the high standards that Selini strive for in all areas of their business.
Visit Selini Bespoke Jewellery on Facebook
###