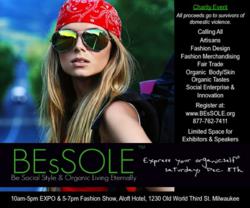 BEsSOLE For Life!
Milwaukee, Wisconsin (PRWEB) August 31, 2012
Running from 10 a.m. to 5 p.m., Saturday, Dec. 8th, at the Aloft Hotel, in Milwaukee, BEsSOLE,™ the Social Style & Organic Living Expo, is a socially conscious learning and shopping event that highlights stylish fashions, organic tastes and healthy, natural products for skin and body care. The event promises a fair trade fashion show, exhibitions and opportunities to learn about eco-friendly lifestyle products, careers with meaning social enterprise solutions for a sustainable future.
Bringing together small businesses with consumers, teachers, and students, BEsSOLE™ maintains a goal to positively enhance the organic lifestyle while engaging the power of social innovation. Attendees that bring a garment for donation to a domestic violence shelter will receive a free expo-shopping pass.
BEsSOLE™ is positively affecting lives.
Be part of making a profound difference in the world.