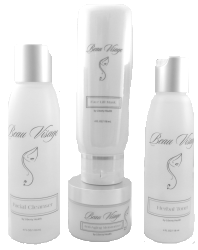 When products work as well as our Beau Visage Anti Aging Products work, word gets out.
(PRWEB) September 21, 2012
Anti aging product sales from Liberty Health Network (LHN) are continuing to improve. LHN is reporting that Amazon.Com sales alone have increased 43% monthly since the beginning of the year.
"When products work as well as our Beau Visage Anti Aging Products work, word gets out." Said LHN Chief Operating Officer Russell Bly. "When we first introduced our products on Amazon, we expected consistent sales growth. But in a down economy, we never expected a 40% plus monthly sales growth for each and every month in 2012. And the best part is that the 40% growth rate is just an average. The increase is actually trending up, with our non-surgical facelift mask leading the way!" Bly said.
Results may be seen with the Beau Visage Non-Surgical Facelift Mask on the first application. The natural compounds in the Beau Visage Facelift Without Surgery Mask works on the areas around the mouth, chin, eyes, and cheeks. And with repetition, results continue to improve. LHN offers a package of powerful antiaging products including the company's new Titanium Dioxide Free Beau Visage Youth Renewal Moisturizer, the gentle but effective Beau Visage Facial Cleanser, and the Beau Visage Herbal Toner with Hyaluronic Acid and Witch Hazel, two ingredients recommended by TV's Dr. Mehmet Oz on his Dr. Oz show.
"Obviously we feel that we offer the best moisturizer for women, the best moisturizer for men, the best anti aging products for men and women, and the best nutritional supplements on the market." Said LHN Chief Financial Officer Tracy Grevert. "And evidently, our customers concur. On Amazon for example virtually every metric is up, leading to financials that any business would bend over backwards to attain." Grevert said.
The company also reports that the huge growth in anti aging sales on Amazon is leading to growth in other areas as well. The LHN Independent Associate Business Opportunity is being swept along in the surge as a record number of new Marketing associates have joined LHN.
Traditionally, many home business opportunities feature products that are overpriced so severely, the only customers are those who hope to make money by the opportunity side of the business. At LHN however, products sell on their own, without a business opportunity attached.
"A friend of mine actually purchased the Beau Visage Non-Surgical Facelift Mask on Amazon as a gift to me." Said Independent Marketing Associate Chris Humphries. "So many of my friends were amazed at the results after just a few applications, they wanted to to buy the product. So I though why not? I joined the company as an Independent Associate and can actually help my friends buy the same products and earn some money to boot. Now, not only am I hanging around a younger looking crowd, I'm hanging around a crowd with a lot more money thanks to the LHN business opportunity!" Said Humphries enthusiastically.
LHN is a US business with distribution facilities in the Tampa Bay area. All products are manufactured in the USA by FDA registered facilities current with the Good manufacturing Practices (GMP) guidelines. The company's business model utilizes Independent Marketing Associates to distribute the following Skin Care Facial Treatment Products: Beau Visage Non Surgical Facelift Mask ; Beau Visage Facial Herbal Toner with Hyaluronic Acid and Witch Hazel (2 Ingredients recommended by TV's Dr. Oz); Beau Visage Facial Cleanser; The New Beau Visage Youth Restoring Moisturizer. All products are covered by LHN's 60 Day Money Back Guarantee.
In addition, LHN offers several of the company's best-selling Mortechem-Free Nutritional Supplements such as AlliSTAR Premium Garlic Supplement; ProZymaCleanse Daily Probiotic, Digestive Enzyme, and Fiber Supplement; O2 Plus Saturated Oxygen Drops; SlimEZ Weight Loss Supplement Capsules; MGA Plus Mangosteen, GoJi, Acai, and Pomegranate Capsules which play an important role in turning back the hands of time.
Additional products are also offered exclusively on the company's website for Network Marketing distributor sales.
About Liberty Health Network, LLC
Liberty Health Network is one of the nation's leading Direct and Internet Marketing companies with a state-of-the-art Global Distribution facility in Tampa Bay, Fl. For 12 Years, the Liberty Health Network name has been synonymous with high quality Mortechem-Free Nutritional Supplements, Anti Aging Skin Care, and Internet Web Applications. The statements made on this website have not been evaluated by the Food & Drug Administration. These products are not intended to diagnose, prevent, treat, or cure any disease.
Individuals interested in Marketing LHN Products are encouraged to contact an authorized LHN Independent Associate.
Businesses or Individuals interested in distributing Liberty Products or requiring more information on this topic should contact Chief Operating Officer Russell Bly at (813) 774-8191 or e-mail at office(at)libertyhealthbiz(dot)com.