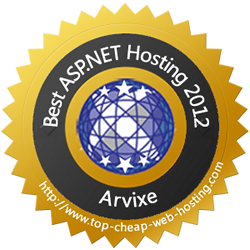 San Francisco, CA (PRWEB) May 27, 2012
The web hosting review site TCWH announces the Best ASP.NET Hosting for 2012 for Microsoft developers, based on the web hosting supported Microsoft technology & features, web hosting speed, reliability, support and price, rated by the TCWH editors and the 80 real customer reviews.
As introduced by the editors of Top-Cheap-Web-Hosting.com, Arvixe is the award winner of the best ASP.NET hosting for 2012 after they had reviewed 20+ ASP.NET shared web hosts since 2010. TCWH still has 4 ASP.NET MVC 2/3 websites hosted with Arvixe ASP.NET shared web host like RapidWebDev.org. Besides their editorial recommendation, they had received about 66 customer reviews to Arvixe ASP.NET shared web hosting, and 98.5% of the customers are satisfied with the overall service received.
Arvixe is the fast growing web hosting company focusing on providing the affordable web hosting services. So far, they have 3 support centers with a hundred staffs in US, India and Middle East, serving for 300,000 domains and websites globally. Arvixe launched the ASP.NET shared web hosting in 2005. They're the one of the most historical and experienced ASP.NET web hosting provider.
Arvixe ASP.NET shared web Hosting is based on the latest Windows Server 2008 R2 and IIS 7.5 with the following compelling features.
1) 1 Free domain name & multiple sites/domains hosted on 1 account.
2) IIS 7.5 Isolated Application Pool, Full Trust, Remote IIS Management
3) .NET Framework 1.1, 2.0, 3.5SP1, 4.0 & ASP.NET MVC 1/2/3.
4) MSSQL 2008 R2 Express - unlimited databases.
5) WebSitePanel Control Panel, 1-Click install DotNetNuke/BlogEngine.NET.
6) Private SSL and Dedicated IP Address Allowed.
Arvixe ASP.NET shared web hosting is starting at $5/mo regularly, but now they're making a compelling 30% discount for the visitors from Top-Cheap-Web-Hosting.com, starting at $3.5/mo only.
To claim the Arvixe 30% discount and to learn more features, review and secret revealed about Arvixe ASP.NET shared web hosting, visit http://www.top-cheap-web-hosting.com/arvixe-coupon-reviews/arvixe-asp-net-hosting-coupon-reviews
About Top-Cheap-Web-Hosting.com
Top-Cheap-Web-Hosting.com (http://www.top-cheap-web-hosting.com) is a leading web hosting review & rating website based on their true experience and the reviews collected from real customers, designed to help people find the best web hosting deal, saving time and money from a bad choice.