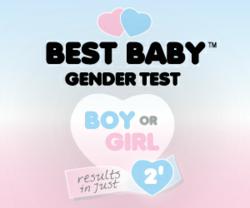 Now, pregnant women wishing to know the gender of their babies can access www.bestbabygender.com and request a free trial
Coral Springs, FL (PRWEB) May 11, 2011
Pregnancy is the first step into a new phase of your life, but sometimes the wait for the new family addition seems endless. Most women want to know their babies' gender as soon as possible because that helps them to be better prepared for a pink or blue reception.
Now, pregnant women wishing to know the gender of their babies can access http://www.bestbabygender.com and request a free trial (look for the "Free trial" link at the home page). Their Best Baby gender test will arrive in the mail in less than 5 days, and they just need to collect their first morning urine and mix it with the reagent included in the box. Results will be obtained immediately in the comfort of their homes.
The Best Baby gender test uses a unique US patented technology to detect hormones in the urine of pregnant women, that after reacting changes urine's color to red indicating a "boy result" or to green to indicate a "girl" result. Color labels are also provided to make the results' readings easy and accurate.
Thousands of women have already used the Best Baby gender test and are absolutely satisfied with it, so this a great chance for those who haven't tried it yet.
The Best Baby gender test is manufactured by HelloBaby, LLC a company founded 2 years ago that has revolutionized the at home gender test market.
For more information visit http://www.bestbabygender.com
PR contact:
Adrian Soriano
828-738-6627
info(at)bestbabygender(dot)com
###