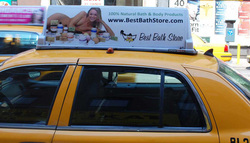 In June we moved in to an energy-efficient 5,300 sq foot production facility in preparation for our launch to the world
Woburn, MA (PRWEB) August 18, 2009
Luxury all-natural bath products producer and retailer Best Bath Store is set to take the City by storm. Starting this week, the online retailer launches an aggressive marketing campaign throughout New York City. Crafters of a lavish line of natural soaps, bath bombs, hand and body lotions, and fine skin care products, Best Bath Store is so confident New Yorkers will fall in love with their unique products, they have been expanding production to meet what will surely be increased demand.
"In June we moved in to an energy-efficient 5,300 sq foot production facility in preparation for our launch to the world," said Justin Gomolka, CEO of Best Bath Store. "Up until now, only a select few savvy consumers knew about our handcrafted line of beauty products. We think it's a shame more people are not aware of BestBathStore.com and we're working diligently to change that."
On http://www.BestBathStore.com one would find an extensive line of affordable indulgences, including colorful body bars, fizzy bath bombs, bath salts, mud masks, and scrubs from the Dead Sea, exquisite hand formulated lotions for a variety of skin types, specialty skin care products, hair care products and soon, an innovative line of men's products. Anyone can afford to seek refuge in a simple escape created by Best Bath Store's carefully crafted, naturally sourced products.
Best Bath Store is gearing up for this week's Manhattan debut. The company has purchased cab top ad space so people all over the city will hear about BestBathStore.com, The ad features an alluring model and a selection of the company's most enticing products and is sure to make commuters and pedestrians excited about checking the store out online.
Best Bath Store products are not only created from the finest natural ingredients, but they are crafted with a profound respect for animals, consumers and the planet. They are one of PETA's business friends and are committed to both avoiding and redressing the awful animal abuses that sometimes sadly plague the beauty products industry. Instead of testing on animals, Best Bath Store tests their all-natural products out on themselves and their families before bringing them to marketplace. The company is a signatory of the Campaign for Safe Cosmetics, a movement of producers committed to using non-toxic, natural ingredients. Best Bath Store puts their environmental consciousness in practice in every facet of daily operations. They power their business with 100% green power, generated by wind farms in upstate New York. They hand package shipments in recyclable cardboard boxes and protect the contents with biodegradable cornstarch packing peanuts rather than harmful Styrofoam..
Visitors to http://www.BestBathStore.com can view the complete product line, order gift baskets, find free samples to try, and enroll in Best Bath Points, their customer loyalty program.
BestBathStore.com is a beauty products consumer's dream. They craft an unparalleled line of superior all-natural personal care products, all while backing a strong social commitment with tangible action. This week, watch for New York City taxis proudly promoting BestBathStore.com. Catch a cab and the next wave in online beauty products retail.
Contact
Justin Gomolka
781-491-0890
# # #