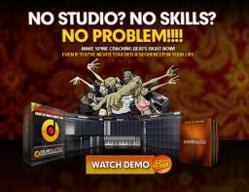 We include a drum interface, DAW, uncompressed loops and high bit rate plugins to create any popular style of music.
New York, New York (PRWEB) July 28, 2012
Best Beats Software has hit the market and is opening up new musical creation experiences for songwriters and musicians. The expense of recording original music in professional studios is one of the elements that prevent amateurs from becoming professionals. The makers of Best Beats Software, NC Media, are musicians and understand the struggles of producing music for little to no cost. One advantage to making pro beats with this software is that it is able to export music in uncompressed .WAV format instead of compressed .MP3 like some programs. In celebration of the launch of this software, a special price is attached to the software for the next 30-days. A musician or songwriter that wants to try the Best Beats Software can obtain more information from the NC Media website.
Before digital recording interfaces were created, a musician or songwriter had to go into a professional studio or invest in expensive analog equipment for recording. Many of the world's top studios have now upgraded mixing boards and recording consoles to digital hard disk and software solutions. The price of creating a recording in a major studio continues to rise as technology prices have made it possible to produce studio quality home recordings. "Our software is written for complete beginners but we don't skimp on pro features," a representative of Best Beats Software said. "We include a drum interface, DAW, uncompressed loops and high bit rate plugins to create any popular style of music," added the Best Beats Software representative.
Television and film production companies around the world have music licensing departments that are in control of the music programmed and played back for network and cable television programs. A recent study on the most popular styles of music licensed to film and television in 2011 was reported by an independent auditing agency for ASCAP, SESAC and BMI. These three companies monitor nearly every piece of music that is broadcast in the United States. The study found that house music, dub and dance music tracks were among the most played and highest royalty payouts in 2011. Songwriters, musicians and artists that have the capability to record and produce these tracks could benefit from increased music licensing revenue.
Leading colleges and universities that have music instructional programs have started to offer digital music production to students interested in pursuing a career in music production. Top universities like Full Sail and Berklee College of Music provide students an informative way to learn industry standard software for creating music for professional use. A person that cannot attend a 4-year degree program could benefit from the ability to create instrumental tracks with inexpensive music creation software. The Best Beats Software is now available for a low introductory price to make it cost effective for those wanting professional recordings to compete in the music industry.
About Best Beats Software
NC Media has produced five best-selling software programs related to music creation and the music industry. This Canadian software company is owned and operated by professional musicians that understand the hard work and development needed to become a professional. By creating one of the Internet's first all in one software solutions, Best Beats Software, NC Media continues to rise above the ranks of open source software companies worldwide. Version one of Best Beats Software was such a success in 2010 that this software company has released version 2.0 of this beat making software solution.