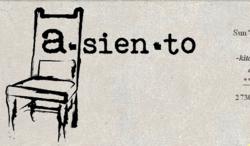 "We will ring in the New Year twice.
We will toast at 9 p.m. as the East Coast celebrates the start of 2012 and we will toast at midnight as we all officially step into the New Year
San Francisco, CA (PRWEB) December 28, 2011
A San Francisco bar serving tapas, Asiento invites everyone to attend a New Year's Eve bash in their Mission District restaurant. Not only will the attendees prepare to ring in the New Year, they will also get the first opportunity to taste the restaurant's new winter drink list.
The festivities will get underway at 5 p.m. on New Year's Eve, Saturday, Dec. 31 and last until 2 a.m. Asiento will host several local DJs and will have drink specials all night long.
The cost is $35 for the dinner. Tax and tip are extra. The dinner will be an all-you-can-eat cocktail party-style with two complimentary glasses of bubbly. Book early for dinner as Asiento is only offering 80 dinner tickets. View the menu scheduled for New Year's Eve on Asiento's website at http://www.asientosf.com.
Even if the dinner tickets have all been sold or if people already have dinner plans, Asiento invites everyone to come by for drinks and dancing without having to purchase the food package.
"We will ring in the New Year twice," said Debi Cohn of Asiento. "We will toast at 9 p.m. as the East Coast celebrates the start of 2012 and we will toast at midnight as we all officially step into the New Year."
For more information on Asiento, call 415-766-0238 or visit them online at http://www.asientosf.com. Asiento is located at 2730 21st St. in San Francisco.
About Asiento
Asiento is a neighborhood bar, serving Tapas, located in San Francisco's Mission District. They are known for their Chill welcoming vibe, happy hour specials, numerous board games and game night. Top it off with an eclectic wine list and the best brunch on Sundays, known as the Sunday Recovery Brunch, 11 a.m. until 4 p.m. They offer a casual relaxed environment where people can stop in for a drink and meet up with their neighbors or make new friends. The bar features San Francisco's finest local talent, ranging from the favorite neighborhood and surprise international DJs to local bands each amplified by the bar's top of the line JK Sound system.
###