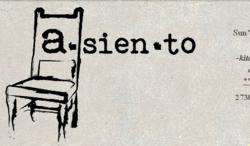 We will provide good music and yummy food for our guests. Come celebrate Easter at one of the best brunch venues in the city for patrons 21 and over
San Francisco, CA (PRWEB) April 07, 2012
Asiento, a San Francisco bar serving tapas and offering happy hour specials seven days a week, will be featuring live music at its upcoming Easter Sunday brunch on April 8, from 11 a.m. to 4 p.m.
"We will provide good music and yummy food for our guests. Come celebrate Easter at one of the best brunch venues in the city for patrons 21 and over," Debi Cohn of Asiento said.
More than just an average bar, Asiento benefits from being located away from mainstream areas, and is equipped with friendly staff and the accommodations necessary for parties of all sizes that won't break the bank.
Asiento features San Francisco's finest local talent, ranging from the favorite neighborhood DJs to must-hear bands that are amplified by Asiento's top of the line sound system. Asiento knows customer come not only to enjoy the entertainment, but chat with friends; hence why the restaurant bar keeps the music at a level that keeps customers moving without sacrificing conversations.
For more information about the Easter Sunday brunch or any of Asiento's offerings, call 415-766-0238, view Asiento on the web at http://www.asientosf.comor visit 2730 21st St. in San Francisco.
About Asiento
A San Francisco bar serving tapas, Asiento, is a neighborhood bar located in San Francisco's Mission District. They are known for a welcoming vibe, happy hour specials, numerous board games and game night. Top it off with an eclectic wine list and the best secret Sunday brunch, known as the Sunday Recovery Brunch, from 11 a.m. until 4 p.m. every Sunday. They offer a casual and relaxed environment where people can stop in for a drink and meet up with their neighbors or make new friends. The bar features San Francisco's finest local talent, ranging from the favorite neighborhood and surprise international DJs to local bands, each amplified by the bar's JK Sound system. Asiento is a 21 and over venue.